What is Kit Car Magazine saying about the Rodster® Street Rod?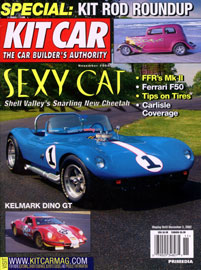 Kit Car
November 2002
Specialty Scene
News and views important to the kit car world
Original Kit Earns Patent
For anyone who still believes that the kit car industry is a splash-and-copy genre, we have news for you. Henry Caroselli of Caroselli Design, creators of the Rodster and Rodster sedan delivery, has been granted under law United States Patent No. D450,284 on his Rodster street rod design. This patent gives Caroselli legal protection against competitors who hope to elude the patent by varying one or two nonessential details. The doctrine of equivalents gives Caroselli the chance to persuade a federal judge that a competing product, though not identical, is so similar that it infringes on the patent.

Another thing to remember is that there is considerable shrinkage with each mold generation, so typically a "sloppy copy" is not dimensionally identical to the specifications of the original parts. An unsuspecting customer can be burned with parts that don't fit.

Caroselli Design is one of the top industry manufacturers. The company works hard to dismiss past negatives that may erroneously be linked to our hobby, and Caroselli has won awards for good manufacturing practices. His Chevy S-10-based Rodster and sedan delivery are favorites at street rod and kit car shows nationwide.

For more information, contact Caroselli Design at Dept. KC, 128 Center St., Ste. B, El Segundo, CA 90245; 310/322-2767; www.rodster.com.

CAPTION:

Caroselli Design's Rodster sedan delivery has a nose and design that was awarded a patent as original in concept.
CAPTION:

Caroselli Design's Rodster sedan delivery has a nose and design that was awarded a patent as original in concept.
---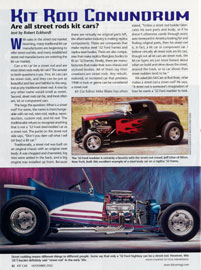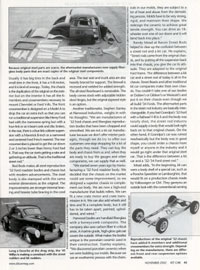 Kit Car Conundrum
Are all street rods kit cars?
text by Robert Eckhardt
Someone else who has taken the kit car approach to street rodding is Henry Caroselli of Caroselli Design. He is using the Chevy S-10 and Blazer as his donor cars. He explains why: "I believe street rodding had gotten out of hand. If you look at the guys who were building the original street rods, they were taking the parts that were lying around and built the old '32 highboys. I looked to see what was lying around today and found Chevy S-10s. I noticed people lowering and hot rodding them. I thought, Why not reverse the process? Everyone seems to be putting modern drivetrains, steering, and brakes into old vehicles. Why not just take a newer vehicle and make it look retro like a street rod? The kids have discovered that they can put a V-8 in them and have about the quickest bang for the buck you can put together. The kit ends up costing about a third of what a custom highboy would cost.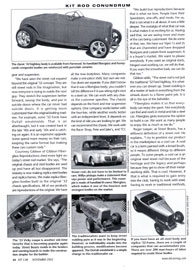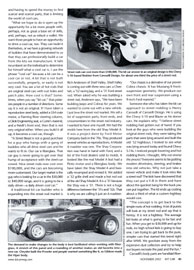 "The concept is to get back to the simple roots of hot rodding. A lot of purists will look at my street rod and say that is heresy. It is not a highboy. The average kid looks at what is going to be fast and fun. When you get to $30,000 and up for rods, no high school kid is going to buy one. I am trying to get back to the pure, simpler cars that started this trend right after WWII. We gravitate away from the expensive dust collectors and try to help our buyers recreate the past and the fun."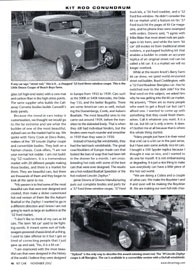 Caroselli's body parts are handlaid fiberglass (of high-end resin) with a core mat and carbon fiber in the high-stress points. The same supplier who builds the Callaway Corvette bodies builds Caroselli's body panels.
Caroselli Design
Dept. KC
128 Center St.
Ste. B
El Segundo, CA 90245
310/322-2767
www.rodster.com
CAPTION:

Street rods can cost more than $100,000. The kit car answer is an original design is this Chevy S-10-based Rodster from Caroselli Design, for about one-third the price of a street rod.
---