What is Popular Mechanics Magazine saying
about the Rodster® street rod?
Popular Mechanics Magazine
Great Stuff
Edited by Cliff Gromer
Fat Attack
Here's the ticket to a low-buck fat-fendered hot rod. The Rodster, shown here in Super Deluxe trim, comes as a kit for $6995. You supply an '83 to '94 Chevy S-10 Blazer donor vehicle and average mechanical ability.

The conversion involves swapping the kit's fiberglass body panels onto the Blazer chassis. No welding is required and you retain the Blazer's original doors and interior. Major operations include lowering the suspension, installing a new radiator and moving the battery.

Contact Caroselli Design Group, 128 Center St., # B, El Segundo, CA 90245, 310/322-2767; www.rodster.com.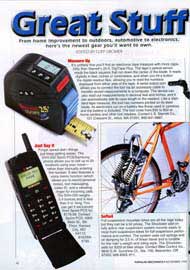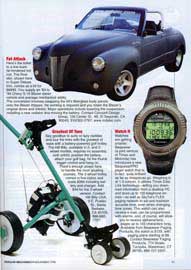 ---