What is The Vintage Voice saying
about the Rodster® Street Rod?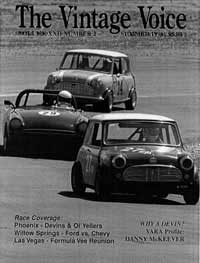 The Vintage Voice
by Lynn Mills
HOT ROD UPDATE

Hard to imagine a dependable hot rod - but that's just what the "Rodster®" is. The concept and longtime dream of VARA member Henry Caroselli, brought to fruition with partner Todd Gerstenberger, it's a kit car/hotrod featuring a composite body that sits on a Chevy S-10 Blazer chassis. Using the Blazer's powertrain, smog controls, interior parts, etc., it retains Blazer registration. With few mechanical modifications needed, it results in a truly dependable daily driver. With 600 lbs. removed, the Blazer really kicks, too. The car debuted at the Handcrafted Auto Show, at Knott's Berry Farm in April, and won the Director's Choice award.

"It's a neat concept from the standpoint that you don't change the car, you take the front end off, you cut the back end and the roof off, and you put this body on it. Any Chevy dealer can service it," says Todd.

It took three years of development before Henry and Todd built the body and assembled the first two cars. "I would describe it as a modern 1937 Ford roadster. That's kind of what we tried for. The important thing is that it needed to be fun," says Todd. "Yet this is a civilized car that you can use."

Henry has a background in art direction and advertising for Mazda. Todd is an Art Center grad in car design, and has done a lot of work for Ford and the Brubaker Group (designing the Brubaker Box back in the 70's, forerunner of today's minivan).

Says Henry, "I always wanted to create a car that captured the essence of the original hot rods. I see people smile when they look at the Rodster® - and to me, that says it all." For more information, contact Caroselli Design at (310) 322-2767.