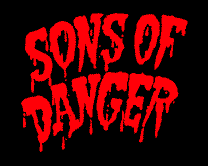 "For innovation and generally ramming his head against the wall in search of fame and fortune as a car builder, we name Henry Caroselli to the Sons of Danger." http://www.sonsofdanger.com (August 2003)
(NOTE: Their very exclusive, less than 100, MEMBERSHIP includes: David E. Davis Jr., Larry Shinoda, Malcolm Forbes, Danny Sullivan, Paul Newman, Hurley Haywood, William Jeanes, Bob Bondurant, Rocky Aoki, Robert Guerrero, Al Unser, Don Garlits, Tom Sneva, Darrell Gwynn, Ronnie Petersen, Skip Barber, Brock Yates, John Fitch, etc.)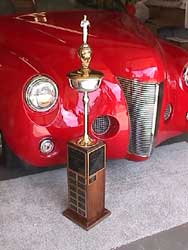 "The Rodster got its share of thumbs-ups."

HOT ROD, Dec. 1997

"Quick & easy low-cost kit."

KIT CAR, Nov. 1997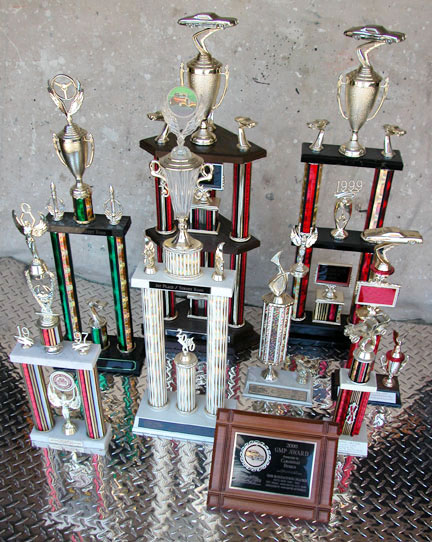 Awards

Rodster Street Rods win three trophies at the '32nd Annual Custom Car and Hot Rod Show' in Austin, TX — January 20-22, 2006.

Owner Michael Gannaway has two Rodster Street Rods, an Open Roadster and a Sedan Delivery. He entered both of them in the 32nd Annual Custom Car and Hot Rod Show (Austin, TX, Jan.'06), where they competed against 400 other cars in various classes. Mike reported, "As usual the cars were a big hit with the public." He is fond of calling them "the most popular cars in Texas." Guess he has a point, as his Roadster won 1st place - Custom Hand Built and his Sedan Delivery won 1st place - Custom Full Mini Utility Wagon. But the big surprise was that his beautiful Rodster Street Rod Roadster won the coveted award for Street Achievement Design –– an award judged against every one of the 300+ street-legal cars at the show. Congratulations Mike!


The Rodster Street Rod Sedan Delivery won the coveted President's Trophy at the 2003 Knott's show. Henry Caroselli (left) accepts the award from Ron Biggerstaff, the President of the AHA.

Caroselli Design awarded Manufacturer of the Year.

The Association of Handcrafted Automobiles named Caroselli Design Manufacturer of the Year - 2000. This prestigious award specifically recognizes good business practices. Editors, industry opinion leaders, and owners are polled to arrive at a consensus. We are extremely proud to be listed on this perpetual trophy along with the leading manufacturers in the industry.

The Rodster is the proud Winner of the
1997 Northern California Kit Car Club Manufacturer's Award!

"First Place - Street Rods"

AHA/Knott's Kit Car Show, Apr. '98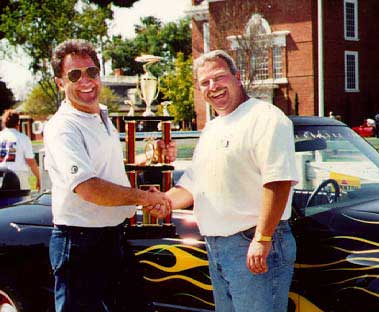 The Rodster is presented the "President's Choice Trophy" at the AHA/Knott's Kit Car Show. April '99."

Here's Bob's Rodster and its trophies: Two "1st Place", One "3rd place", One "Presidential Award", and One "Top 20".

Hi Henry,

Well, was I ever surprised this past Sunday. I believe I told you I was going to my first car show with the "Rodster." I came home with a Trophy and it was all due to your Design of the "Rodster". I never got a Trophy with any of my other cars (only had 2) that I took to car shows. I was one very happy guy to get it.

My nephew, who has a 65 Dodge Coronet, was with me and said, "Hey you've got a trophy!" when they called out my car number, "I told you,you would get one with the "Rodster". I think he was as happy as I was to get the trophy.

I will say, I did get a good response from people, who all wondered what that "little car" was. I even put the literature I had on the windshield so people could read for themselves what it was, but they still were asking me lots of questions about it. A man came up to me and said he saw it in a magazine but wondered what it looked like close up, put together. He was truly amazed at what it looked like and most people told me when I said it used to be a Chevy Blazer, "You have to be kidding!"

It wasn't until I showed them some pictures of what it looked like when it was a Blazer that they believed what their eyes were looking at. It really made me feel good to know I had something that only a few, so far, in this part of the East have and I know it will catch on to more people as "we", the ones who own "Rodsters," get our cars to these car shows and cruises.

You may be getting requests for information in the near future, from people in the East. From what I have seen so far, in just a short time it is a crowd gatherer. I remember from the article in Kit Car Magazine it said, "Can you see the Rodster in this picture? Well that was a very good quote. At times I almost could not see my car for people around it,

Henry, you did design one heck of a car. If you hadn't, people would not be so interested in that "Little Car".

All I can say is, "It is one big hit around these parts." I will try to get to Carlisle, The only thing is, we have a lot of car shows in this immediate area the same weekend. I wish I could be at all of them. Also depends on the weather as to where I will go.

I still can't believe I have a trophy, and your "Rodster" did it for me. Does this mean more trophies for me this summer? I believe it just might!!

Thanks again, Henry,

Bob Schoedler

Allentown, PA.

To see more about Bob Schoedler's award-winning Rodster, click here.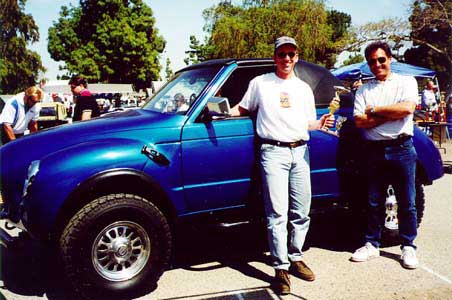 Kraig Short, his trophy-winning 4x4 Rodster®, and Henry Caroselli, at the Knott's Berry Farm Car show.
To see more about Kraig Short's award-winning Rodster, click here.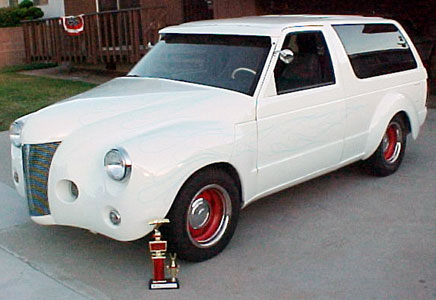 Larry Lindsay's award winning Sedan Delivery Rodster.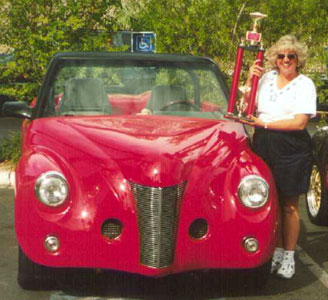 Ginny Canning's award winning Rodster.