What are Rodster® Street Rods?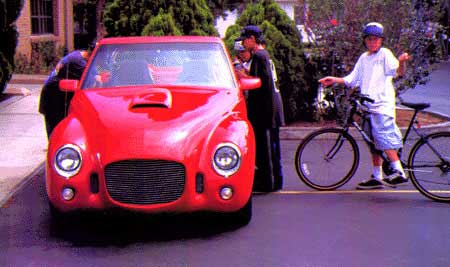 They're the EZ-cruisin' Street Rods you build using a modern production vehicle as a base. The best way to think about them is that they are ingenious way to get a street rod that will be 3X the fun @ 1/3 the cost.

Because you build a Rodster Street Rod using an '83-'94 S-10 Blazer as a donor vehicle, it's a straightforward and easy build-up, quite easy to keep running, and a fun, fun, fun "worry-free" cruiser. Plus the total build up end up being about 1/3 the cost of the typical street/hot rod build up.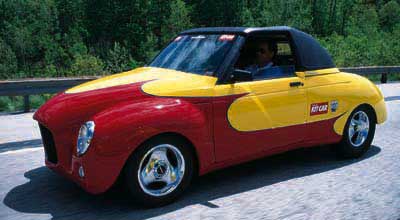 With our state-of-the-art body kit, you convert a readily-available used S-10 Blazer into a completed Roadster that's ready for the paint shop after about 120 hours of work (and about 60 hours for the Sedan Delivery) in your home garage.

Clever engineering, suburb craftsmanship, state-of-the-art manufacturing, and attention to detail combine to make the Rodster Street Rod as easy to build as it is also a pleasure to own and enjoy.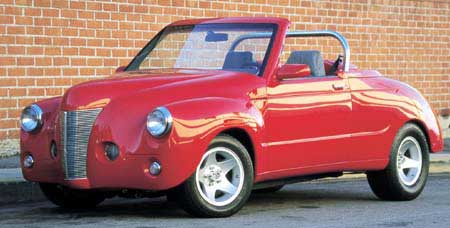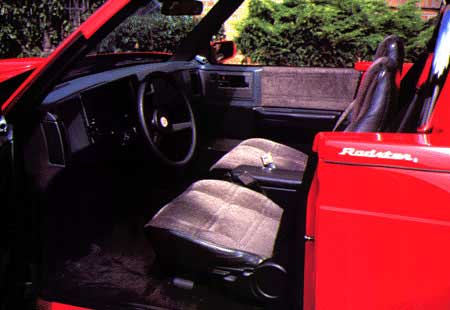 The Rodster Street Rod design also maximizes the advantages of its donor vehicle by retaining the Blazer's major OEM components: the complete drive train, pollution-control equipment, interior (2-seater) with the original appointments and the windshield/cowl. Even the factory doors are retained by using a proprietary Caroselli Design window tracking mechanism (roadster). The only major mechanical modifications are to the cooling system, relocation of the battery, and lowering the suspension.
And, not only are S-10 Blazers readily available at a reasonable cost, the Rodster Street Rod retains the Blazer's registration, eliminating another common headache of specialty car ownership. Also of note is the extensive aftermarket support for the S-10 Blazer, which makes personalization/customization of your Rodster Street Rod that much easier. And maintenance is as easy for the Rodster Street Rod as it is for the S-10 Blazer.

But what makes the Rodster Street Rod truly special is its "curb appeal." People driving by are constantly giving you a "thumbs-up." Like the original street rods and hot rods, a Rodster Street Rod is a clever way to get yourself a reasonably-priced custom rod - plus one that's meant to be enjoyed. Like we said, a Rodster Street Rod is "3X the fun @ 1/3 the cost."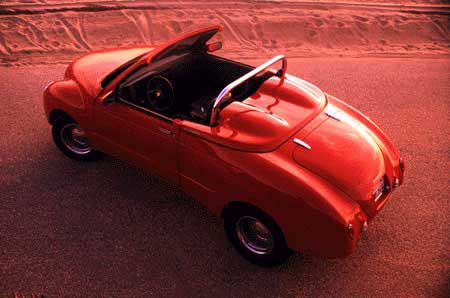 Body design:

ultra high-quality hand-laminated fiberglass body parts
designed-in mounting flanges
unique tilt nose ("picks-off" for easy engine access)
operational trunk (roadster)

Mechanical Design:

window tracking mechanism (roadster)
urethane front hinge bushings and rear body mounts
styling hoop (not intended to offer roll-over protection)

Single host donor vehicle (1983-1994 Chevy S-10 Blazer/GMC S-15 Jimmy

Rodster Street Rods retain -

original S-10 Blazer/S-15 Jimmy registration/VIN (most States)
all fuel-injection and pollution control equipment
complete drivetrain (power brakes, power steering, IFS, etc.)
interior appointments (seats/dash/door panels/etc.)
windshield/cowl/wipers
factory doors (w/OEM windows)

Only mechanical modifications -

roof cut (roadster)
cooling systems (upgraded high-efficiency radiator and electric fan)
battery relocation
lowering suspension - 3"
window tracks in doors (roadster)


Build time:

Approximately 120 hours (about 60 for the Sedan Delivery) to have ready to take to paint shop.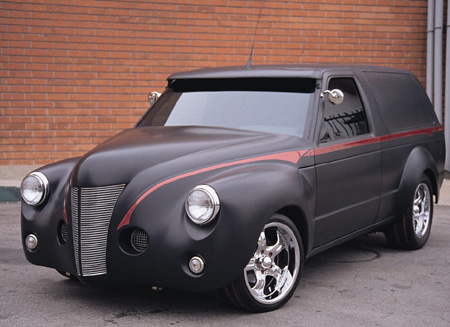 From customer reports, the typical Rodster Street Rod Roadster has a total build-up cost in the $10K to $15K range, and a Rodster Street Rod Sedan Delivery usually builds up for only $9K to $11K (this includes the cost of the '83-'94 Blazer donor vehicle). For conversion kit pricing see price link (at top or bottom of page).

Check out how a Rodster Street Rod goes together with our 50+ pg. Assembly Manual. This step-by-step manual, with over 100 photos/illustrations, is just $49 w/S&H (of course, completely refundable with the purchase of a Rodster Street Rod kit).
The Rodster (original model) on display at the SEMA show in Las Vegas.