Frequently Asked Questions about the Rodster® Street Rod:
Q: Can you put a Rodster® Street Rod body re-styling kit on a 1982-1993 Chevy S-10 Pickup?

A: We have sold quite a few SEDAN DELIVERY kits to customers who own first-generation Chevy S-10 Pickups. It's a great way to give an S-10 pickup that 1940's-look. See http://www.rodster.com/pickuptruck.htm for more info. From the B-pillar forward, everything on an S-10 Blazer is the same as it is on an S-10 Pickup (only the front frame horns are slightly different). These customers purchased one of our SEDAN DELIVERY kits and simply extended the rocker panel covers (as even the short-bed pickup has a 7.8" longer wheelbase than that of the S-10 Blazer). The optional visor will fit a pickup cab, and the optional rear fender flares fit right on the sides of the pickup bed box.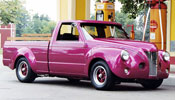 Q: Can you build a Rodster® Street Rod ROADSTER or SEDAN DELIVERY using a Chevy S-10 Pickup instead of an S-10 Blazer for the donor?

A: To use a Chevy S-10 Pickup as a donor for our ROADSTER model you'd have to shorten the frame to match the 100.5" wheelbase of the S-10 Blazer. (Even though you can build a ROADSTER on a '82-'93 S-10 Pickup donor, we don't recommend it or give instructions on how to do it. Cutting a frame isn't something the homebuilder should tackle, and our kits were designed for the homebuilder.) As far as the SEDAN DELIVERY model, an S-10 Blazer donor must be used because in the conversion the entire "OEM body" from the cowl rearward is retained.

Q: Is an '83-'94 GMC S-15 Jimmy the same as an '82-'94 Chevy S-10 Blazer?

A: Yes. There were only minor visual and package options differences between the two vehicles. Only the '92-'93 GMC Typhoon (turbocharged V-6 with all-wheel drive) is substantially different from any Chevy S-10 Blazer. By the way, a Typhoon would make an awesome donor vehicle for a Rodster Street Rod! (Note: We don't know why it works out this way, but in some parts of the country you can buy a GMC S-15 Jimmy for 5-10% less than a comparable Chevy S-10 Blazer.)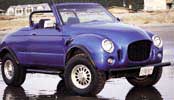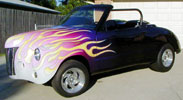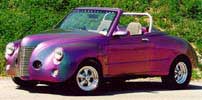 Q: Can I build a Rodster Street Rod on a '83-'94 Chevy S-10 Blazer 4X4?

A: Yes, about 20% of our customers use a 4X4-donor vehicle. The only tradeoffs are that the front and rear tires must have identical diameters and wheel choices are somewhat limited compared to 2WD due to the offset of the hubs. (Note: Belltech® 800-445-3767 is now offering a lowering kit #3914 for the 4X4. Our lowering kits are for 2WD S-10s only.)

Q: Can I use a '91-'94 Chevy S-10 Blazer 4-door as a donor vehicle for my Rodster?

A: For the Roadster Model, no - the wheelbase is too long (107.3") and it would be quite difficult to shorten. For the Sedan Delivery Model, yes - the "nose" fits on just fine but the rockers would have to be lengthened, and the rear fender flares would have to be modified to work with the rear doors.

Q. Why did Caroselli Design choose a Chevy S-10 Blazer as the donor for the Rodster?

A. A very large donor pool: there were 2.4 million Chevy S-10 Blazer/GMC S-15 Jimmys built during the 11 years between 1983-1994. Over 25% were 2WD. (Also, there were 3.3 million Chevy S-10/GMC S-15 pickups built during that same period. Because the pickup is the same from the B-pillar forward, it makes the donor pool for parts that much larger.)

Other benefits are that GM parts are usually less expensive and more readily available, and a small-block Chevy V-8 goes right in (see below).

Q: Will a V-8 fit under the hood of a Rodster Street Rod?

A: At an early prototype stage we lengthened the nose to accommodate the installation of a small block Chevy V-8. Because the 4.3-liter V-6 is essentially a small block with two cylinders lopped off, the motor mounts are virtually the same. There are three companies selling manuals and kits to make the swap easy. Also, there are two companies which we know of, that make wiring harness adapters for many engine/trans. combinations. If you're in a state where the smog laws aren't a problem, a 350/350 swap is a very economical way to get some serious horsepower and performance. (Note: Click here to read an article on the subject. Then, check out www.jtrpublishing.com for a manual that is written specifically to cover V-8 swaps into Chevy S-10s.)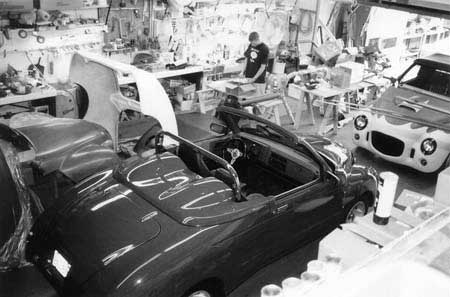 The Rodster Works in California.

Q: Do you use "chopper gun" or "hand lay-up" for the fiberglass Rodster body parts?

A: We use the highest-quality hand lay-up procedure for the body parts. We use a high-end resin, fiberglass cloth with a lot of core-mat and carbon-fiber reinforcement, inner supports, and generous flanges. Our parts are 2-3 times more expensive to produce than if we used a general-purpose resin with a chopper gun. It's worth the investment because our parts are lighter and stronger and much less prone to ripples, heat distortion, and stress cracks.

We produce the Carson top and some small finisher pieces with a chopper gun using a high-end resin and core-mat reinforcement. We do this to be cost effective and because the top is textured and therefore doesn't require a class-A smooth surface.

(Note: the typical up-charge from other kit car companies is an additional $300-$500 if you specify they use a high-end resin -- and much, much more if you specify they do an actual hand lay-up using woven cloth, core-mat, and carbon-fiber reinforcement.)

Q: What is the average shipping cost?

A: Our fully-packed shipping container for the Roadster Model Complete Kit is 4' X 6' X 6' and weighs about 600 lbs. (We're able to get it that small through careful nesting of parts. Note: this container will fit in the bed of a pick-up truck.) The complete kit usually ships coast-to-coast for about $500-$600. The fully-packed shipping container for our Sedan Delivery Model is smaller (34" X 72" X 60") and lighter and typically ships coast-to-coast for about $400-$500.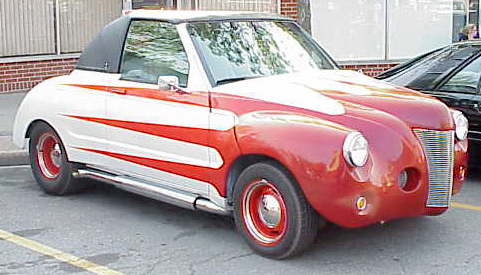 Q: Do you offer a top for the roadster model?

A: Yes. We offer a lift-off Carson Top as an option. It's made of fiberglass and is designed to look like a padded convertible top. It has a black textured gel-coat finish with the seams molded in. The rear window is Plexiglas. The stock side windows fit nicely into the sides. The entire top weighs only 33 lbs.

We cruised cross-country with a top on the HOT ROD Power Tour '97 and I can tell you that it is much more pleasant cruisin' the freeways with one. We stashed the top in the motel room whenever we went out on a night cruise. It only leaked a bit during a real "gully-washer" in Kansas. We saw over 85 mph (please don't tell anyone) a few times, and the top was just great.
Q: What is retained from the donor S-10 Blazer?

A: The Rodster is a body conversion, so essentially the Chevy S-10 Blazer is still under there. What's retained: 100.5" wheel base, power disc brakes, all smog equipment, complete drive train, frame, floor pan/inner fenders, cowl/windshield w/wipers, doors/side windows, and interior/dash. Beyond cutting and fitting the body, the only major mechanical changes are installing a new radiator, lowering the ride height, and moving the battery to the back. (Note: The Sedan Delivery Model retains the rear section of the S-10 Blazer, including the rear seat. In the Roadster Model the rear seat is removed and that area is covered by the tonneau.)

Q. Can I retain the factory air-conditioning of the donor vehicle?

A: Yes. Only the A/C condenser must be reoriented or changed. We recommend you replace the stock condenser with a universal condenser that has GM-style, #6 and #8 O-ring fittings. We've found that the Superflo TCC-1418 (15"h X 19"w) from Southern Rods (800)787-8763 is priced reasonably and is of high quality.

By the way, options like power windows, cruise control, power steering/brakes, digital dash, tilt-wheel, etc. all function, as they would on the original donor vehicle.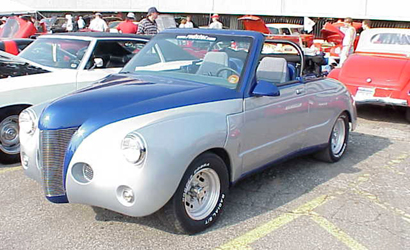 Q: How does the Rodster Street Rod ride and drive?

A: With 3" taken out of the ride height, 1/2 degree of negative camber designed into the lowered front A-arms, and wider passenger spec. tires, the Rodster has a very car-like ride. Everyone who drives the Rodster mentions that it sure doesn't ride, or drive, like a truck.

Q: How much lighter than the original donor vehicle is the Rodster Street Rod?

A: On average, about 500 lbs. for the Roadster Model and 200 lbs. for the Sedan Delivery Model. Losing that much weight has a dramatic effect on the responsiveness of the vehicle as a whole.

Q: What does it cost to build the average Rodster Street Rod?

A: From reviewing what our customers have spent, we can report that you can build yourself a nice Rodster Sedan Delivery Model for somewhere between $7,000 and $9,000; and a nice Roadster Model for somewhere between $9,000 and $15,000.

Q: How do I insure a Rodster Street Rod?

A: Because collector cars are so popular today, most insurance companies have "specified dollar amount" insurance for an agreed value. We've had no trouble getting $25,000 insurance on any of the Rodsters we've built.

Q: How do I register a Rodster Street Rod?

A: Typically it retains the original S-10 Blazer's registration. Some states require that, when a vehicle's outward appearance has changed, it be registered as a specially constructed vehicle. This is usually relatively painless because so much of the vehicle is still original GM.

Q: Can't you get a '32 Ford hiboy body for the same price as a Rodster Street Rod kit?

A: Body for body it's about the same -- except that with the '32 Ford reproduction body all you get is the body (and only from the firewall back and w/o fenders). With the Rodster you get a complete conversion kit with all the stuff you need to convert a used S10 Blazer into a Rodster (like a lowering kit, radiator, fan, sport bar, grille, lights, etc.). And, the Rodster body is engineered to fit a modern production vehicle; so when you add a $2K donor, $3K paint job, and a $1K set of wheels/tires you're only in the $13K - $15K range for a completed street rod. The total build-up cost for the '32 hiboy street rod is typically in the $35K - $50K range.

Q: How mechanically inclined do I have to be to build a Rodster Street Rod?

A: You must have a good basic knowledge of tools and their function, a good workspace, and an average mechanical aptitude. But, the most important talent you need is the patience to follow the very comprehensive step-by-step assembly manual ($49, refundable with purchase of kit). It's a good idea to enlist the aid of a spouse, friend or child to read along while you work. The manual contains over 100 photos/illustrations/templates to make each step as straightforward as possible. Because the cuts are covered with caps, you have quite a bit of leeway in making them. There is no welding necessary. Also, each part has designed-in attachment flanges, so fitting them is reasonably easy. Bottom line: the Rodster was truly engineered for the homebuilder.

The most difficult operations in the building of most kit cars are hanging fully-functional doors, getting the ergonomics of steering, seating and pedals correct, generating a windshield with wipers, wiring the entire car and dash, getting the brakes to balance, and installing a reliable drive train. Since the Rodster is a conversion kit built on a single-host donor vehicle, it avoids these typical pitfalls and headaches.

The Rodster was rated a "Quick & Easy, Low-Cost Kit" by the editors of KIT CAR magazine (Nov. '97).

Assembly Manual ($49, refundable with purchase of kit). Click here for download of ASSEMBLY MANUAL order form PDF.

Q: What is the average build time for a Rodster Street Rod?

A: Using the Roadster Model Complete Kit, it takes somewhere between 100-200 hours to convert a Chevy S-10 Blazer and have it ready to go the paint shop as a Rodster. For instance, one customer, who's a computer programmer by day, built a Rodster in 2 1/2 months, working just nights and weekends. Our Sedan Delivery Model goes together in less than 1/2 the time it takes to build the Roadster Model.

Q: What kind of tools and garage space do I need?

A: Beyond the general "handyman" tools, the biggest outlay will be for a Sawsall-type saw ($125) and a die-grinder (pneumatic: $25/electric: $60). The assembly manual contains a complete list of each tool needed.

Because the Rodster Street Rod is built on an operational chassis, the garage space can be as small as one vehicle space. Also, you can easily roll it onto the driveway for much of the work, then roll it back into a covered space when done with that particular operation.

The Rodster was designed to be built at home. If you would like a detailed tool list and information on exactly how a Rodster goes together, the purchase of a step-by-step assembly manual ($49, refundable with purchase of kit) is easily worth your investment.

Assembly Manual ($49, refundable with purchase of kit). Click here for download of ASSEMBLY MANUAL order form PDF.
Q: What seat options do you have?

A: If you want different seats from the original donor, we recommend that you get them out of a wrecked GM vehicle. For example, we put a 60/40 seat from a '96 Chevy S-10 pick-up in the red/yellow Rodster. It fit right on the old seat tracks and only cost around $300.

Q: What is the normal delivery time?

A: Over the past year, we've been running between 4-6 weeks. It's worked out quite well for most customers because it allowed them time to search out an appropriate donor vehicle and get it mechanically healthy, lowered and aligned.

Q: What are the best things about a Rodster Street Rod?

A: The best things are the rewarding experience of building it, and the satisfaction of cruisin' in something you actually built yourself (just like the tomato that you grow in your own garden always tastes better). Not to mention the peace of mind that comes from knowing that you can easily, and cheaply, get GM parts to keep it running great. Basically, the Rodster maximizes your street rod fun.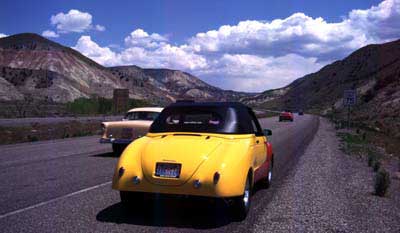 This Red/Yellow Rodster was built with KIT CAR magazine for the HOT ROD magazine Power Tour '97. It ran all 2300 miles flawlessly.