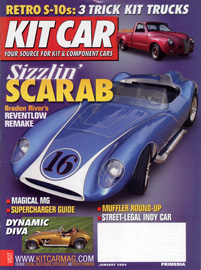 KIT CAR Magazine featured this dynamite new Pickup Truck in the January 2004 issue.
Click Here to see the entire article.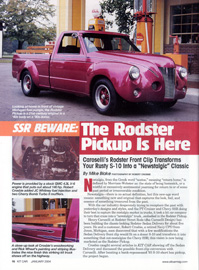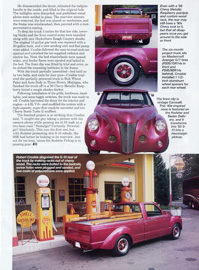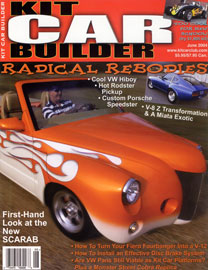 Kit Car Builder magazine featured Chris's awesome Rodster Street Rod Pickup Truck on the cover of their June 2004 issue.
Click Here to see the entire article.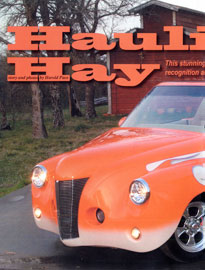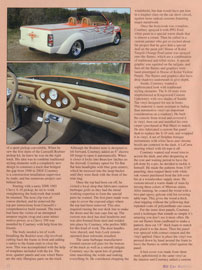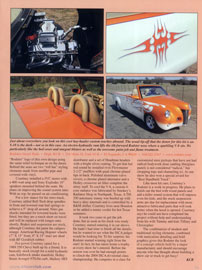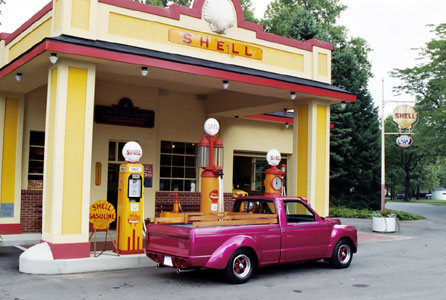 Rodster® Street Rod Pickup Trucks are Hot, Hot, Hot.

It was back in 1999 that we sold the first Rodster Street Rod kit specifically to convert a Chevy S-10 Pickup (from the B-pillar forward, everything is the same as it is on the S-10 Blazer).

Lately the interest in these pickup truck conversions has taken off, probably due to the intro of that sweet new Chevy SSR (selling for over $42,000!!!).

In any case, we thought you'd like to know that with a few easy mods, our SEDAN DELIVERY kit can turn an '82-'93 Chevy S-10 Pickup Truck into a retro rod - like the beauty pictured here. (Basically all the builder has to do is extend the fiberglass rocker panel covers - as even the short-bed S-10 Pickup has a 7.8" longer wheelbase than the 2-door S-10 Blazer).

As you can see in the photos, our optional visor will go on a pickup cab, and the optional rear fender flares fit right on the sides of the pickup bed box.

A big plus is that these pickup truck conversions are amazingly cost-effective and they still retain their utilitarian nature . . . but best of all, they get tons of attention.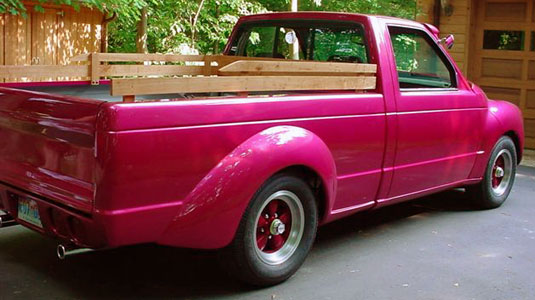 ---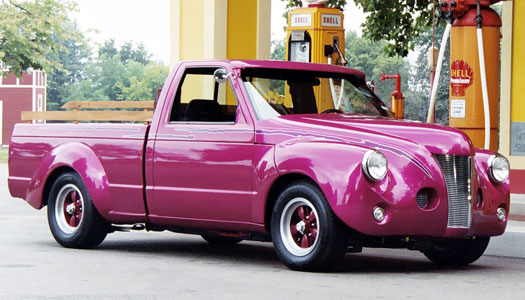 Bob Crosbie
Jones, Michigan

Bob purchased a Rodster Street Rod Sedan Delivery kit with the idea of putting it on a 1993 Chevrolet S-10 Pickup. He received the kit in February of 2003 and is very impressed with the quality of the fiberglass. Bob took his finished Rodster Pickup to a show on July 4th.

It has lots of nice custom touches like cherry-wood rails on the bed, dual exhaust, and painted wheel centers. This retro-rod beauty draws a crowd wherever it goes.

Quoting Bob: "It is definitely an attention getter. It draws waves, thumbs up, nods, honks and I caught one guy taking a picture with his camera phone while passing me at 55 mph on a two lane road."

(Special thanks to the Gilmore Car Museum for the use of their awesome vintage gas station as a photo location.)

---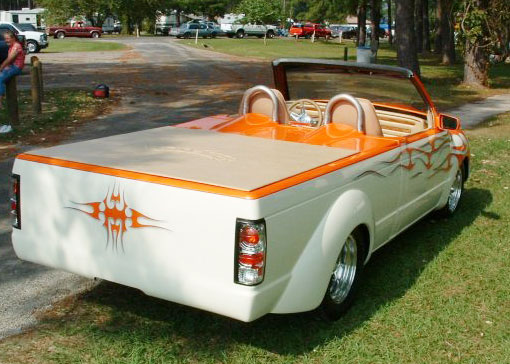 Chris Courtney
Cleveland, Texas

Chris has taken the Rodster Street Rod Pickup Truck to a whole 'nother level. It has already won him a bunch of trophies (six of 'em first place).

His starting point was our Sedan Delivery Complete Kit and rear flares. Check out the many custom touches he added like the: chop top, awesome flamed paint job (How could anyone miss it?), dash w/wood inlays and classic gauges, dual sport-bar hoops, bed and cool cover, flared-in rocker covers, shaved door handles, and American Racing Hopster wheels. Plus, under that hood is a thumpin' 350 cu. in. V-8.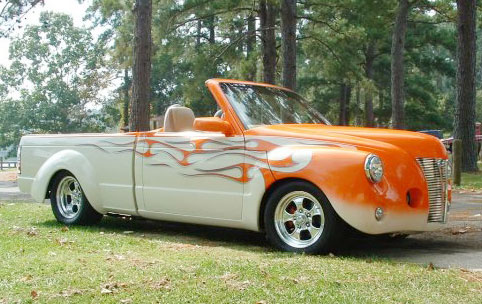 It was a pleasure working with Chris to help him realize his dream vehicle. Even we didn't dream it would turn out this awesome. Wouldn't you just love to go cruisin' in this wild machine?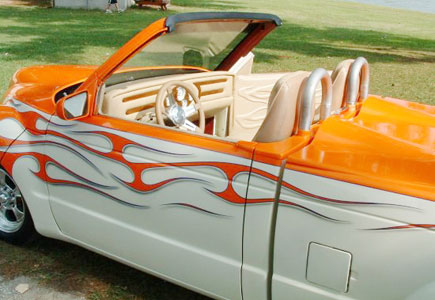 ---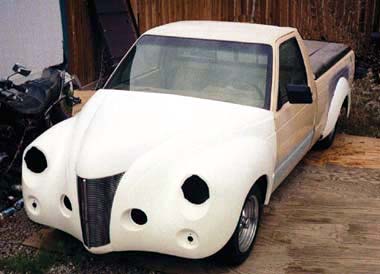 Bill & Suzanne Pratt
Stagecoach, Nevada

Bill & Suzanne are enthusiastic kit-car builders and are very active in the Association of Handcrafted Automobiles Club. They have a few kit cars, and purchased a Rodster Street Rod Sedan Delivery kit in 1999 to put on a Chevrolet S-10 pickup. They moved to Nevada in 2000 and put the Rodster conversion on the back burner while they re-did their homestead, but they are now planning to have their Rodster Street Rod Pickup together for Reno, Nevada's Hot August Nights.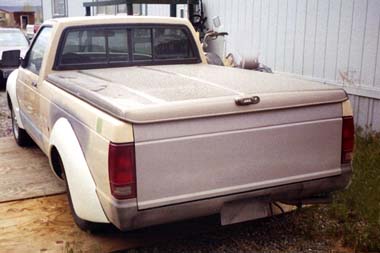 A sneak-peek of their work-in-progress Rodster Street Rod Pickup Truck.

---

Leon Crow
Kingman, Arizona

Leon is a real player in the radio-controlled airplane world. And he wanted to build up a full-sized project, so he chose a Rodster Street Rod. In mid-February of this year he drove over to California to pick up a Rodster Street Rod Sedan Delivery kit with plans to put it on his Chevy S-10 Pickup. He making excellent progress, and expects to have it together this summer.