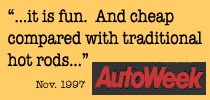 "Classified Ads" on rodster.com are only listed as requested by, and as a courtesy to, the owners of a Rodster Street Rod. Absolutely NO endorsements, recommendations, or warranties by Rodster, Inc. d.b.a.: Caroselli Design, or any of its affiliates, are expressed or implied.

All vehicles listed here are offered by the owner strictly on an "AS IS" basis. We are NOT responsible for any repercussions that may arise from omissions, typographical errors, or inaccuracies no matter what precipitated them.

Please contact the owner directly to confirm the details, and for any further information. Also, please be sure to read the Legal Notice in its entirety for the specific disclaimers as they relate to Rodster Street Rods in general.

Turn-key Rodster Street Rods for sale!
If you don't have the time or inclination to do-it-yourself, here are a few completed Rodster Street Rods available for immediate delivery. Why wait?

---



Bob's "Chick Magnet" can be yours!

Crowd-pleasing, trophy-winning Rodster Street Rod. Built on a 1991 Chevy S-10 Blazer (2WD) w/a 4.3L V-6, 700R4 automatic, true custom dual exhaust, custom Toyota seats, new carpet everywhere, new shocks, new brakes, new radial tires and Rallye wheels. Also: power windows, power locks, AM-FM CD, StreetScene door mirrors, custom trunk enclosure . . . even an Ah-oog-ah horn. Premium Dupont Porsche Green w/clearcoat and custom graphics. Custom-built Soft Top for those sudden rains. Carson Hardtop (fiberglass, lift-off) also included. Less than 4000 miles since built, drives great. Asking only $10,999 -- and you can have your very own "CHICK MAGNET." Located in sunny Florida (Tampa Bay area). See Bob Phelps' build-up story for all the details. Call 239-693-1446 or b1947@comcast.net

---




Thumpin' V8 Rodster Street Rod Convertible

1988 Chevy S-10 Blazer donor (2WD), 305 c.u. TPI V8 (rebuilt), upgraded 700R4 transmission w/Corvette valve body, B&M ratchet shifter, and 3:42 differential. Smoothie chrome wheels with 205/60-15 (F) & 275/60–15 (R) tires. Digital dash gauges, custom folding fabric convertible top, custom nerf bars (F & R), working side-pipe exhaust. Paint is Saab Cayenne Red Metallic (women love the color), and it's a real eye catcher. Has won lots of trophies. Located in Pennsylvania. Asking only $12,000. SOLD! See Bob Schoedler's build-up story

---



One Sweet Super Deluxe Rodster Street Rod Roadster

Professionally assembled by renown-builder Scott's Hot Rods (Oxnard, CA) on 2WD 1989 Chevy S-10 Blazer Tahoe -- an original owner California vehicle in overall exceptional condition, always garage kept. 4.3L fuel-injected V-6, automatic, 107K original miles, power steering, power brakes, power windows, custom paint, custom flames, clear coated, custom rear nerf bumper. Carson Top (not shown) included. An attention-getter everywhere it goes! Turn the key and go cruising. $16,000 obo. SOLD!

---



Super-Cool Sedan Delivery!

Totally modified. Black paint (with silver flakes that glistens in the sunlight). 1991 Chevy Blazer, 4.3L V-6 auto, well taken care of and garage stored. This car is a real head turner! Three LCD screens in the car (one in the dash and two on the headrests). Neon red underbodies along with neon inside the car, custom wheels (15x7 front,15x8 rear) and tires (BFG radials with plenty of tread). A whole new sound system was recently installed (two bazooka subs, and a complete Focal sound system). Grant signature series steering wheel (red and black leather) and an air horn. Fully-tinted windows, along with power windows, and red LCD turn signal mirrors. Remote start w/door poppers (which are always a lot of fun to show off and open the door for the ladies). Close to 120K original miles. Also, has chrome dual exhaust and clear tail light lenses. Car is appraised for over $16,000!!! For more photos and info please e-mail owner at fl2thman@aol.com Selling for $15,000 obo.
---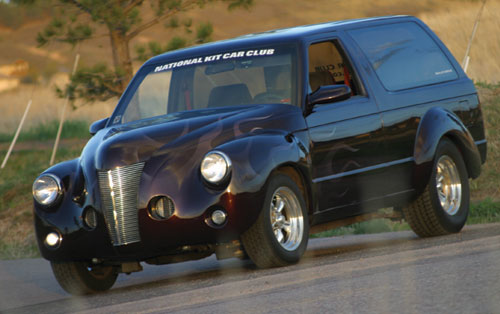 THE MOST FAMOUS RODSTER STREET ROD EVER BUILT!
This beautiful car was part of the Tri-Rodster build-up story and Hot Rod Power Tour participation chronicled in Petersen's Kit Car Magazine in 2001. It has since served as the company car for the National Kit Car Club and KIT CAR BUILDER magazine and has won numerous awards including 'Best Paint.' In a garage full of specialty cars, this is the one that we jump in and drive away without a second thought. It is driven extensively and is well maintained. Custom Black Rose paintjob with ghost flames by Gordon Levy of Levy Racing, freshened this year and protected by a clear bra cut to the contours of the flames. Brand-new Sewfine cloth & vinyl interior. In addition to the Rodster Sedan Delivery kit, the '91 Blazer donor got its door handles and taillights shaved and remote door openers and a rear rollpan and LED lights added. American Torq-Thrust II alloy wheels, updated stereo/CD player, updated A/C w/R134a, 4.3L V-6, tilt, cruise, tinted windows. Included but not installed, new front window rubber, third brake light, chrome valve covers, and Edelbrock headers. Vehicle is located in Castle Rock, Colorado. More info: jim@kitcarclub.com or (303) 663-4573. Price reduced for quick sale (re: got too many projects and not enough garage space), now asking only $14,000.
---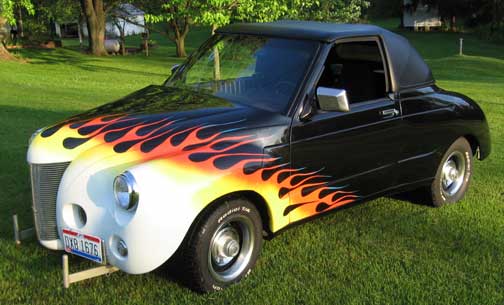 Classic 'Black w/Flames' Rodster Street Rod
Built on a 1989 S-10 Blazer w/a 4.3L V-6, Auto (700R4, rebuilt at 173K miles), Tahoe interior w/tilt wheel, full-factory gauges, cruise control, etc. Premium DuPont paint. Corvette Rallye wheels/caps. Wheel alignment and all worn parts replaced after front lowering kit was installed. Includes optional Carson Top Kit. 176K original miles –– runs great and doesn't use oil. Located in Northwest Ohio. Asking $14,000. SOLD!
---
(1988 GMC JIMMY) — Rodster Street Rod Sedan Delivery

4.3 V-6, Auto (700R4/overdrive/cruise), and A/C (converted to newer R134a). Full power, including windows. Factory gauges w/tach, rear roll pan, hidden hitch. Tinted windows, chrome wheels, stereo/CD player. Overall REAL GOOD condition with much rebuilt. Only 159,000 original miles (less than 10K a year). Built on a rust-free, Florida car. Driven daily, garage kept. See Harold's build-up story. Asking only $8,500. SOLD!
---
One Slick Rodster Street Rod Sedan Delivery

Built on a 1992 Chevy Blazer Tahoe (2WD). It has all power with keyless entry, A/C, 4 wheel ABS, and more . . . like a freshened interior -- even the steering wheel matches the wheels. Most everything was rebuilt and/or replaced at the time of the build up. It is Dark Forest Green (a high-quality metallic paint job that does not show well in the picture). The engine is the desirable 4.3L CPI "W" code V-6 (200HP with roller cam and counter balancer). Overall, I took my time with the details. Asking only $11,500. SOLD! See Jeff Coy's build-up story.
---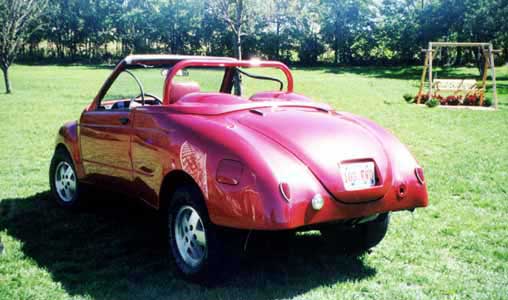 Red-Hot Rodster Street Rod Roadster
1991 Vortec 4.3L V-6, auto, 4X4, AM-FM cassette, striking strawberry red exterior, red interior (seats and carpet), black Carson Top, lowered 3" front and rear. Rides, drives, and handles like a dream. Custom stainless-steel bumpers add class and uniqueness to this one of a kind Rodster. Priced: $15,750. Contact: Bob Brown, (865) 993-4960 or (423) 231-3722
---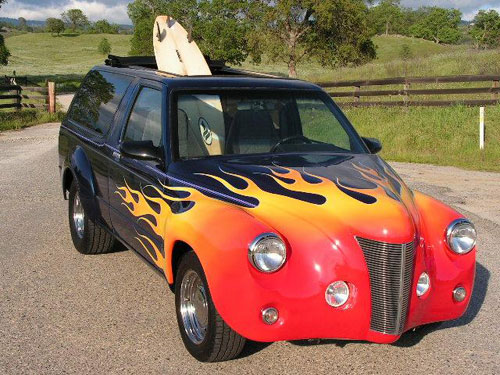 California-Style Rodster Street Rod Sedan Delivery
Built on a 1988 GMC S-15 Jimmy (refurbished), 4.3L V-6 engine (new seals, chrome kit), 700R4 trans (recent rebuild), Air Conditioning (upgraded to R134a), power steering, tilt-wheel, factory gauges w/tach, fresh interior, 32" X 57" folding fabric top. Built by a GM-trained technician. Runs and drives like new – a one of a kind, reliable head-turner you can drive every day. Only $15,999. SOLD!
---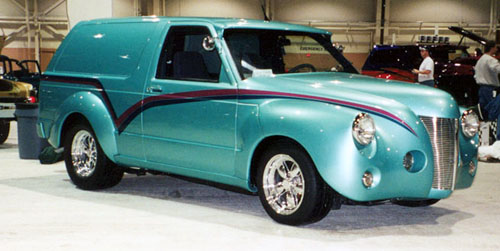 Pro-built Rodster Street Rod Sedan Delivery
1985 Chevy S-10 Blazer Body (frame-up rebuild), 355 cu.in. Chevy V-8 engine w/4 bolt mains (rebuilt), 650 Holley Carb., 700R4 trans. (upgraded), 2800 stall-speed torque converter, Air Conditioning, Power Steering, Power Brakes, 3:43 diff. w/Ltd. slip, Flowmaster Dual Exhaust, polished American Racing Wheels, T/A Radials, AM/FM with DVD/CD Player, Calypso Green w/clear coat, Lots of custom touches, 100% street legal in PA. Runs hard. Super Sharp. $18,900 SOLD!

---

Award-winning Red Rodster Street Rod Super Deluxe

"Rodster #1." 4.3L fuel-injected V-6 with JET chip (passes CA smog), 700R4 automatic w/TransGo shift kit, A/C, full power, cruise control, lots of chrome + extras like: drilled rotors, Gibson muffler, K&N filter, Street Scene door mirrors, Tokico shocks, LeCarra steering wheel, BFG Radial T/As, Glassrit ultra-premium urethane "show car" paint job, built on an one-owner 1989 Chevy S-10 Blazer donor w/only 105K miles. A show car that shows like new! Only $24,000. Located in El Segundo, CA (near LAX). Contact Henry Caroselli at (310) 322-2767

---

HOT ROD magazine
Power-Tour Rodster Street Rod

2.8L fuel-injected V-6, 5-speed (rebuilt), '96 Chevy S10 60/40 bench seat, ACC carpet kit w/mats, Superior chrome Tri-Bar aluminum wheels, KYB shocks, Sikkens premium urethane "show car" paint job w/Magoo pin-striping, Carson Top, Optima gel battery, LeCarra steering wheel, Moon accessories (Tach, shift knob, billet mirrors, & billet pedals), BFG Radial T/As, rear nerf bumpers, Camaro IROC quick-ratio steering box, Flomaster Delta-flo muffler, Ah-oog-ga horn, high-mounted stop light, Over $6,000 in Stereo and Interior improvements w/Eclipse CD Head Unit & 8 Disc CD changer, Zapco AG650 Amplifier, Diamond Hex speakers in custom door panels, IDQ 10" woofer 8 ohm in a custom rear enclosure, Dakota Digital Dash cluster with Gauges & Sensors, Clifford Alarm with full window control & radar sensor, and custom trunk enclosure. Reliable Street Rod! Only $15,500. SOLD!

This vehicle is now owned by Frank Convertino of Gardnerville, NV (outside Reno). Watch for it cruisin' around at Reno's Hot August Nights.

---



Classically-cool Rodster Street Rod

Donor was a flawless 1987 Chevy S-10 Blazer, 2WD, Tahoe Edition, 2.8L FI V-6, 5-speed, PPG Urethane Mercedes Smoke Silver & Clearcoat, Burgundy Tweed interior, tinted windows, cruise, all power, Kenwood CD, Alpine security, LeCarra steering wheel, new Cooper Cobra Radials on new Ultra aluminum wheels, Carson Top w/ custom finished headliner (not shown in photo), exceptional finish detail in trunk (polished & clearcoated oak plank flooring w/chrome strips and fully integrated, gasketed, carpeted & sealed sidewalls). Chassis has 160K, motor was rebuilt in 1997, clutch was replaced in 1999. Loads of photos available on request. Priced to sell at only $14,500. SOLD!

---


Rod's Rodster Street Rod
Beautiful flame-red paint, charcoal interior, professionally assembled on 2WD 1989 Tahoe donor, A/C, 4.3L fuel-injected V-6, Automatic, 3:73 locker, factory Carson Top. $19,500 obo. SOLD! Click here for more information or contact Rod Decker (310) 547-4876. Located in San Pedro, CA (near Long Beach).
---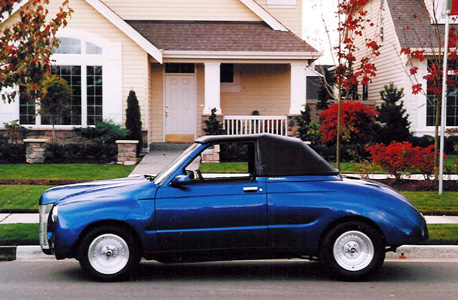 Ryan's Rodster Street Rod
Metallic-blue paint (Viper-GTS), new black luxury carpet, 2.8L fuel-injected V-6 (rebuilt), 5-speed, new clutch, built on 2WD 1988 donor, American Racing wheels, AM/FM radio w/CD player, Street Scene door mirrors, Carson Top, Flowmaster exhaust, new coils and shocks, less than 2000 miles since painted. Located in Everett, WA (near Seattle). A great deal at $11,000 SOLD!
---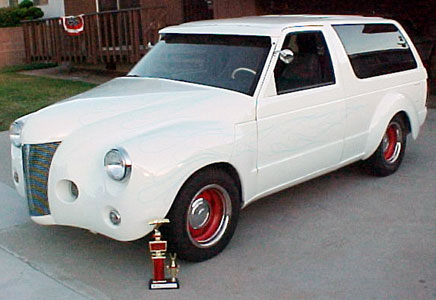 Mechanic-built Rodster Street Rod Sedan Delivery
4.3L V-6, automatic (700R4-overdrive), A/C (new super-flow condenser), 1991 Chevy S-10 Blazer donor, 110K miles at time of conversion (no leaks or oil usage on both engine and trans), blue "flame" pin-stripping (doesn't show well in photo), "Banjo" steering wheel, rear roll pan, new shocks/brakes/tires/windshield, won "Most Unique" trophy at 2002 Knott's Berry Farm AHA Show. Built by an independent Mercedes-Benz mechanic for his daily driver. Only $12,000. SOLD!
---

Cover Story (KIT CAR magazine, May '99) Rodster Super Deluxe
2.5L fuel-injected I-4, 5-speed, Corvette Rally wheels w/police caps, Monroe shocks, PPG premium urethane "show car" paint job by "flame-master" Pete Santini, BFG Radial T/As, Carson top, new brakes, 4:11 rear end w/ Auburn Posi, Grant classic steering wheel, Moon Tach & shift knob, high-mounted stop light, nerf bumpers (rear), Street Scene door mirrors, built on a two-owner 1988 donor w/87K miles.
A real attention-getter! $17,500. SOLD!
Now located in Framer's Ranch, TX. Owner has installed a GM LT-1 V-8...
250+ HP at the rear wheels!
---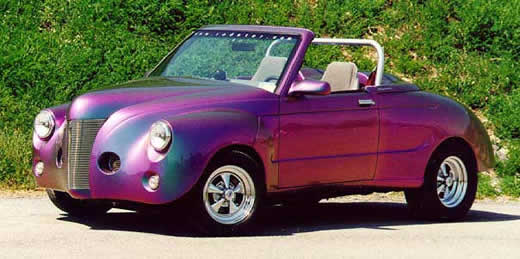 Best-of-Show-Winner Rodster Super Deluxe
2.8L V-6, 5-speed, Dupont Chromalusion "show-car" paint job, 2-tone gray tweed seats and center console cover, dark gray luxury carpet, AM-FM w/CD player, Ah-oog-ga horn, Crager Mags with 295/50R15 rear tires and 225/60R15 front tires, Carson Top (not shown). Built on a 4X4 platform (front driveshaft has been removed) front and rear lowered 3", w/new air-adjustable rear shocks. This Rodster draws a crowd anywhere you travel with it.Best of Show winner! Turn the key and go cruisin'! $17,900. SOLD at Fall Carlisle Show!
---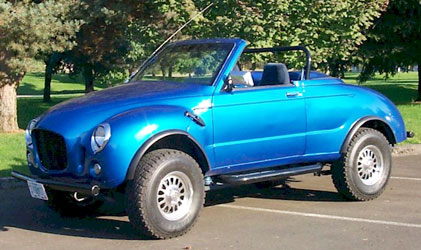 Special 4x4 Rodster - SOLD on eBay!