What is Kit Car Magazine saying about the Rodster® Street Rod?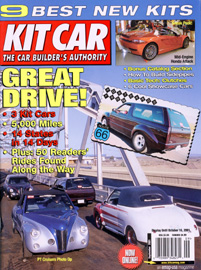 Kit Car Magazine
Road Trip
text by Jim Youngs
photos by Henry Caroselli, Mark Wiley, Kent Wiley, Kari Wiley, Carolyn Youngs, Jim Youngs
3 Rodsters, 5,000 miles, 14 states in 14 days on the Hot Rod Power Tour
As if the lure of cruising cross-country in company with hundreds of the coolest custom cars to be found wasn't enough, this year's running of the Hot Rod Magazine Power Tour was to shadow as much of historic Route 66 as possible to celebrate its 75th anniversary. We had to go and, like Kerouac, Steinbeck, and Richard Hell before us, record our adventures, trials, and cultural observations about the Mother Road! This year's tour had an almost magical attraction. We wouldn't be driving just any open road--this was the Main Street of America with all the legends, history, mystique, and odd culture we could absorb in 10 days.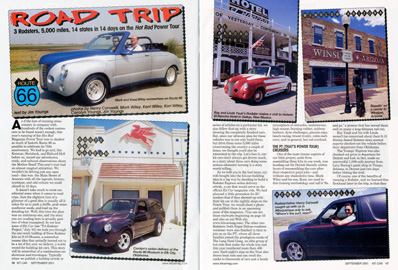 It doesn't take much to twist our editorial arms when it comes to road trips. Just the slightest hint of a glimmer of a good idea is usually all it takes for us to pack a duffle, grab some sunflower seeds, and load up the detailing kit. Well, this time the plan was an ambitious one, and the story you are reading here is actually part two of what transpired. In our last issue of Kit Car (see "Tri-Rodster Project," July '01) we took you through the one-week buildup of three Rodster kits on S-10 Blazers, a somewhat insane idea that actually turned out to be a lot of fun and, we believe, a world record for building kit cars. This story will be somewhat of a combination car showcase and travelogue. Typically when we publish a buildup article or series of articles on a particular kit, we also follow that up with a story showing the completely finished cars. But, since our ultimate plan for these vehicles was to not only build them, but drive them some 5,000 miles crisscrossing the country a couple of times, we thought you'd also be interested in the trip. Let's face it, our kit cars don't always get driven much, so a story about three cars doing some serious odometer turning is a story worth telling.

As we told you in the last issue, my wife bought into the kit-car-building idea in a big way by deciding to build a Rodster Express sedan delivery rebody, a car that would serve as the official Kit Car magazine ride. We had planned a little promotion for KC readers that if they showed up with their kit car at the nightly stops on the Power Tour, we would shoot a photo and publish them in an upcoming issue of the magazine. (You can see those stalwarts beginning on page 55 and also on our Web site, www.kitcarmag.com). The other two Rodsters (both Super Deluxe roadster versions) were also finished in time to join us on the PT, where all three families joined the prestigious ranks of The Long Haul Gang, an elite group of hot rods that make the whole trip and this year numbered more than 400 cars. Each night's stop on the Tour also draws local rods and can swell the ranks to thousands of cars and a heady atmosphere of carnauba, testosterone, high octane, burning rubber, midway barkers, dyno challenges, gimmie caps, bench racing, brand rivalry, cubic-inch envy, and in general, hot rod overload.
THE PT (THAT'S POWER TOUR) CRUISERS
One of the more insane aspects of our little project, aside from assembling three kits in one week, was heading out for Detroit literally within hours of reassembling the cars after their respective paint jobs--and without any shakedown time. Mark Wiley and his son, Kent, are used to this cruising methodology and call it "fix and go," a process that has served them well on many a long-distance rod run.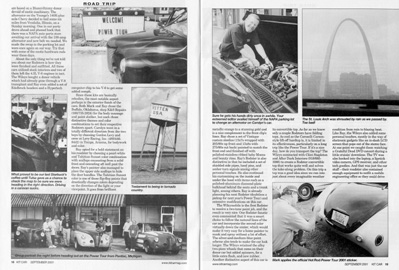 Ray Yauk and his wife Linda weren't too concerned about their S-15 Jimmy-based Rodster since several experts checked out the vehicle before their departure from Oklahoma.

The Youngs' Express was also checked out prior to departure for Detroit and had, in fact, made an uneventful 1,000-mile journey from Levy Racing's paint shop in Tempe, Arizona, to Denver just two days before hitting the trail.

Of course, one of the benefits of running a Rodster, and we learned this firsthand later in the trip, is that they are based on a Blazer/Jimmy donor devoid of exotic machinery. The alternator on the Youngs' 140K-plus mile Chevy decided to bail some six miles from Vendalia, Illinois, on a Sunday morning. One in our party drove ahead and phoned back that there was a NAPA auto parts store awaiting our arrival with the 100-amp alternator and new belt we needed. We made the swap in the parking lot and were once again on our way. Try that with some of the exotic hardware rods wear these days.

About the only thing we've not told you about our Rodsters is how they were finished and outfitted. All three cars utilized stock interiors and two of them left the 4.3L V-6t engines intact. The Wileys bought a donor vehicle which had already gone through a V-8 transplant and Ray even added a set of Edelbrock headers and a Hypertech computer chip to his V-6 to get some added oomph.

Since these kits are basically rebodies, the most notable aspect perhaps is the exterior finish of the cars. Both Mark and Ray chose the Buffalo, Oklahoma, shop K&S Repairs (580/735-2824) for the body massage and paint slather, but each chose distinctive themes and color combinations to set their respective Rodsters apart. Carolyn went in a totally different direction from the two boys by choosing Gordon Levy and crew at Levy Racing, Inc. (480/446-8442) in Tempe, Arizona, for bodywork and color.

Ray opted for a bold statement on his roadster by choosing a pearl-white and Tahitian Sunset color combination with scallops emanating from a solid front and extending aft well past the doors. Ray's painter also managed to place the upper side scallops to hide the door handles. The Tahitian Sunset color is one of those flip-flop paints that drastically changes colors depending on the direction of the light or your viewpoint. It goes from brilliant metallic orange to a stunning gold and is a nice complement to the front clip's lines. Ray chose a set of Vintique custom steelies (15x7s wrapped with 205/60s up front and 15x8s with 275/60s out back) painted to match the front end and finished off with polished-stainless ribbed baby Moons and beauty rims. Ray's Rodster is also distinctive in that he included a set of shielded side pipes, hood pins, and amber turn signals among other personal touches. He also continued his customizing on the inside and under the hood with items such as a polished-aluminum diamond-plate bulkhead behind the seats and a trunk light, among others. Ray is already planning his next Rodster (doubtless a pickup for next year's Power Tour) and extensive modifications on this car.

The Wileymobile is the first Rodster to receive a two-tone paint job, and the result is very nice. One Rodster fanatic even commented that it was a smart choice to follow the natural lines of the car and incorporate the second color virtually down the center, which would make it very easy for a home painter to mask and spray without a lot of effort. The silver-and-medium-blue paint scheme also tends to make the car look longer. The Wileys retained the alloy two-piece wheels that came on their donor car but added spinners, for a little extra flash, and a new rubber. Another distinctive aspect of this car is its convertible top. As far as we know only a couple Rodsters have folding tops. As cool as the Caroselli Carson-style lift-off hardtop is, it is limited in its effectiveness, particularly on a long trip like the Power Tour. If it's a nice day, how do you transport the top? The Wileys contracted with Clint Stapleton and After Dark Interiors (918/665-3986) to create a Rodster convertible top that works quite well and solves the take-along problem. On this trip a top was a good idea since we ran into just about every imaginable weather condition from rain to blazing heat. Like Ray, the Wileys also added some personal touches, mostly in the way of electronic gadgets like an in-dash LCD screen that pops out of the stereo face. At one point we caught them watching a Grateful Dead DVD concert during a little cruisin' downtime. The TV was also hooked into the laptop, a lipstick video camera, GPS receiver, and other tech goodies. And that was just the car stuff--their roadster also contained enough equipment to outfit a mobile engineering office so they could drive all day, update their Web site (trirodster.com) in the evening, and do their real work the rest of the night.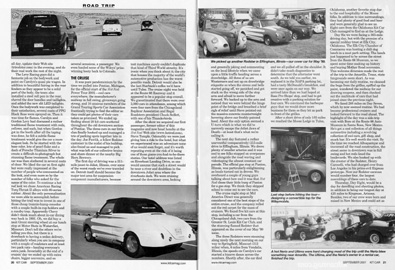 The Levy Racing guys did a fantastic job on the bodywork and paint on Carolyn's quasi pie wagon. In addition to beautiful faring in the rear fenders so they appear to be a solid part of the body, the team also installed a steel roll pain in the rear, shaved the door handles and taillights, and added the new slit LED taillights. Once the bodywork was completed to their satisfaction, several coats of PPG Black Rose were sprayed on. Then it was time for flames. Carolyn and Gordon Levy had discussed a rather traditional flame treatment with reds, yellows, and such, but when Gordon got in the booth after all the taping was done, he felt a subtle flame treatment would give the car a more elegant look. So he started with the base color, lots of pearl flake and a dash of Porsche Titanium Silver to create a difficult-to-photograph but stunning flame treatment. The whole car was then slathered in several coats of clear. We liked the car on first sight but were really impressed at the number of people who commented on the look, and even more so by the number of folks who asked for the name of the color. To continue a hot rod look we chose American Racing Torq-Thrust II alloys with 60-series rubber. About the only personalization we were able to accomplish before hitting the trail was to invest in one of those cheap trannie-hump consoles with a couple built-in cup holders and a sundry tray. Apparently Chevy didn't think much about in-car dining way back in 1991. Oh, we did buy a neat Grant steering wheel at our lunch stop at Motor State in Watervliet, Missouri. Don't tell the others we're telling you this, but there is a drawback to having a sedan delivery, particularly when you are in company with a couple of roadsters and at least two pack rats -- hauling everyone's extra junk. Invariably at the end of a cruisin' day we ended up with extra chairs, bigger souvenirs, and on several occasions, a passenger. We even hauled some of the Wileys' prize-winning booty back to Colorado.
THE CRUISE
It was pure pandemonium by the time we pulled into Pontiac, Michigan, for the official start of the Hot Rod Power Tour 2001--cool cars everywhere, the manufacturer's midway in full swing, giveaways going strong, and 10 anxious members of the Grand Touring Sports Car Association frantically trying to find the editor so they could get photos of their cars taken as promised. We ended up finding about 20 kit cars scattered throughout the old downtown section of Pontiac. The three cars in our little clan finally hooked up and managed a trio of parking spots together late in the day. Joe Pawlik, a fellow Rodster customer in the midst of his buildup, also found us a managed to pick what was left of our collective brains and share dinner at the nearby Big Horn Brewery.

The first day of driving was a 311-mile jaunt to Joliet, Illinois, over some of the worst road we've ever traveled on. Detroit itself should become the major test area for suspension component manufacturers, because test machines surely couldn't duplicated that kind of Third World atrocity. It's ironic when you think about it; the city that houses the majority of the world's automotive production has the worst possible roads. Detroit would also be the last Starbuck's coffee we'd have until Tulsa. The cruise night was held at the Route 66 Raceway and it appeared to be a popular stop overall. We guesstimated that there were over 2,000 cars in attendance, among which were four cars from the Chicagoland Replicar Association and Regal Roadsters president Chuck Seifert, with one of his Thunderbirds.

After the show we acquired our first passenger, former editor of this magazine and now head honcho at the Hot Rod Web site (www.hotrod.com), Steve Temple. Ostensibly we were just giving him a ride to the hotel, but what we experienced was an adventure none of us would soon forget, and it's worth repeating even at the risk of it being one of those guess-you-had-to-be-there stories. Our hotel address was listed on Riverboat Landing Drive, so one would assume that such a street would be near a river and doubtless in the downtown Joliet area where the riverboats dock. We were cruising around the downtown area, looking and generally joking and commenting on the local lifestyle when we came upon a little traffic heading across a drawbridge. All three of us are Westerners and not up on drawbridge etiquette so when the sirens and bells started going off, we panicked and got stuck on the wrong side of the stop arm and afraid to move further forward. We backed up to the arm and noticed that we were behind the hinge point of the bridge and breathed a brief sigh of relief until Steve pointed out the massive concrete counterweight hovering above our freshly painted hood. About the only option seemed a U-turn which is what we did to narrowly escape the Joliet Jaws of Death--at least that's what we're calling it.

The next day featured a rather uneventful (comparatively) 215-mile drive to Effingham, Illinois. We drove plenty of smaller arteries and it was cool to see folks stopped on overpasses and alongside the road waving and videotaping the almost constant car parade. The official gas stop at Paxton, Illinois, was particularly enlightening as locals turned out in droves. We overheard a couple of young guys talking about how cool it was that Hot Rod chose their little burg of Paxton for a gas stop. We think they skipped school to come out to see the cars.

The cruise night stop at Mid America Direct was generally considered one of the best stops of the entire cruise, and the company rolled out the red carpet for the mass of cruisers. We found five kit cars at this stop, including a car from the Chicagoland club, two cars from the Greater St. Louis Kit Car Club, and the stunning flamed Rodster that appeared on the cover of our May '99 issue.

The three Rodsters were steaming along nicely the next morning on our way to Springfield, Missouri (312 miles) when, 6 miles from Vendalia, Illinois, the speedo on Carolyn's car started a bizarre dance across the numbers. Shortly after, the car died and we all pulled off on the shoulder. It didn't take much diagnostics to determine that the alternator went south. As we told you earlier, we replaced it in the NAPA parking lot, had a tasty McDonald's breakfast, and were once again on our way. We arrived later than we had hoped at Bass Pro Shops' stop, and had to get creative with a parking solution for four cars. We convinced the barbeque guys that we would draw more business for them so they let us park in front of the grilles.

After a short drive of only 185 miles we reached the Moose Lodge in Tulsa, Oklahoma, another favorite stop due to the cool hospitality of the Moose folks. In addition to nice surroundings, they had plenty of good food and beer and were generally glad to see us. Eight cars from the Oklahoma Kit Car Club managed to find us at the Lodge.

Day Six we were facing a 363-mile driving day, but with the promise of a special midday treat at Elk City, Oklahoma. The Elk City Chamber of Commerce was hosting a chili dog lunch in a neat park setting. The lunch just happened to be across the street from the Route 66 Museum, so we spent some time soaking up history and buying Mother Road souvenirs. This welcome diversion made the rest of the trip to the Amarillo, Texas, state fairgrounds seem short. As was becoming our daily routine, we cleaned the bugs from the grilles, spiffed up the paint, wandered the midway for our drawing coupons, and then checked out the multitude of cars that had joined since the previous night.

We faced 288 miles on Day Seven, which by now seemed routine. We had become professional cruisers and looked forward to the road ahead. The highlight of the day was a side-trip visit with Bozo at the Route 66 Auto Museum in Santa Rosa, New Mexico. He's got a cool collection of all things automotive including a revolving collection of cool cars, gift shop, and snack bar. It's well worth the visit. By the time we reached Albuquerque and traversed all the road construction, the street scene in downtown was in full swing and hot rods line the boulevards. We also hooked up with the creator of the Rodster, Henry Caroselli, who had charged over from Los Angeles in his prime-evil Express prototype. Now our Rodster caravan would number four, the largest assemblage of these cars to date.

Thursday, Day Eight, would be a day for dawdling and shooting photos, in addition to being our longest day at 435 miles to Kingman, Arizona. Besides, two of our crew were born and raised in New Mexico and could act as tour guides. We stopped just outside Albuquerque early in the morning to do some shooting on the picturesque Rio Puerco bridge built in 1933 on old Route 66. We then made a couple of stops in Gallup, New Mexico, where we visited the historic El Rancho Hotel & Motel, once the favorite hideaway of Hollywood's elite. We also stopped by the childhood home of Mark Wiley right next door to the abandoned Log Cabin Lodge. We then headed for lunch off the trail so we could, as the Eagles' song suggests, stand on the corner in Winslow, Arizona. There is a city park there in the center of town dedicated to that song with a cool mural depicting the girl "in a flatbed Ford slowin' down to take a look at me." Things were hoppin' on 'ol Andy Devine Blvd. in old downtown Kingman by the time we arrived, but we found four spaces in front of the Deluxe Bar.

Our final day on the road was a 305-mile jaunt across the Mojave desert into San Bernardino, California, and the final destination of Power Tour 2001. We decided to forgo any sightseeing and get across the desert as early as we could. Even at that our V-8 car had some overheating problems, but only on two steep climbs. The festivities in San Berdoo were held on the streets of downtown, where rods lined virtually every street. We ha a little respite from the heat thanks to a little California liquid sunshine on Friday afternoon, but for Saturday's festivities the sun shone and the spectators and cars were out in force.

As you can imagine, an event of this magnitude doesn't just happen. It requires a lot of coordination, planning and effort and we salute the emap usa Events department for putting on another winning Power Tour. We would also like to personally thank the sponsors who were critical to the success of the tour and who provided some very cool stuff to those who participated. Thank you Chevrolet, Comp Cams, Edelbrock, Hypertech, Ravin Performance Exhaust, Motor State Performance Warehouse, Cargo Mate, Dupli-Color, Matco Tools, San Bernardino Convention & Visitors Bureau, Power-Lock, Union 76, Baer Brake Systems, Be Cool, CarParts.com, Carriage Works, Chrome, Currie Enterprises, DaimlerChrysler, Flowmaster, GM Performance Parts, Holley, Hotchkis Performance, iCan!, Kobalt, MSD Ignition, Painless Performance Products, ROL Gaskets, Vintage Air, Year One, Mothers, and Auto Custom Carpets.

Sure, we got a little road weary, but after a couple good nights sleep in our own beds all of us were talking about next year. We think you should join us!
---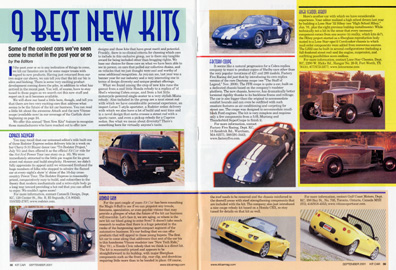 9 Best New Kits
Some of the coolest cars we've seen come to
market in the past year or so.
by the Editors
If the past year or so is any indication of things to come, we kit car fanatics are in for some major treats with regard to new products. Having just returned from our two major car shows, we can tell you that the kit car biz is alive and kicking. There is some very exciting product development coming down the pike, in addition to what has arrived in the recent past. You will, of course, have to stay tuned to these pages as we search out this new stuff and report on it as it becomes available.

We will show our hand a little here, though, and tell you that there are two very exciting cars that address what seems to be the future of the kit car business. You can read a little bit abut the awesome Attack and the new Vitesse coupe (available now) in our coverage of the Carlisle show beginning on page 24.

We offer this annual "Best New Kits" feature to recognize those manufacturers who have reached out to offer new designs and those kits that have great merit and potential. Frankly, there is no clinical criteria for choosing which cars to include in this exclusive group, nor is there any tangible award for being included other than bragging rights. We base our choices for these cars on what we have been able to see in person, on cars that pulled our collective chains, and on vehicles that we just thought were cool and worthy of some additional recognition. As you can see, last year was a banner year for our industry and a very interesting one in terms of design diversity and unique product offerings.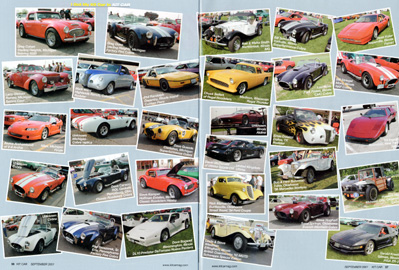 What we found among the crop of new kits runs the gamut from a cool little Honda rebody to a replica of 'ol Shel's winning Cobra coupe, and from a hot little motorcycle-powered single-seater to a very stylish Miata rebody. Also included in the group are a neat street rod with which we have considerable personal experience, an import Lotus 7-style sportster, a Rodster sedan delivery with which we also have a lot of build and seat time and is a novel design that sorta crosses a street rod with a sports racer, and even a pickup rebody for a Caprice sedan. See what we mean about diversity? There's something here for virtually anyone's taste.

EXPRESS DELIVERY

You may recall that our esteemed editor's wife built one of these Rodster Express sedan delivery kits in a week on her Chevy S-10 Blazer donor (see "Tri-Rodster Project," July '01) and then offered it as the official Kit Car ride for the Hot Rod Power Tour (see story on p. 16). We were immediately attracted to the little pie wagon for its great street rod stance and build simplicity. However, we didn't fully appreciate its appeal until we witnessed firsthand the huge numbers of folks who stopped to admire the flamed car at every night's show 'n' shine of the 10-day cross-country Power Tour. The Rodster Express is reasonably priced, comparatively easy to build, and subscribes to the theory that modern mechanicals and a retro-style body go a long way toward providing a hot rod that you can afford to enjoy. We couldn't agree more!

For more information, contact Caroselli Design, Dept. KC, 128 Center St., Ste. B, El Segundo, CA 90245; 310/322-2767; www.rodster.com.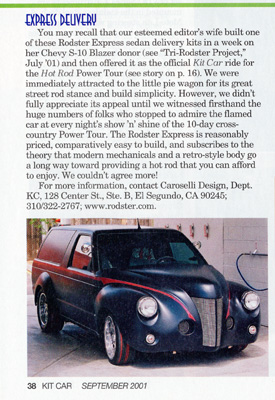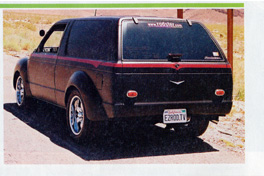 ---