What is Kit Car magazine saying about the Rodster® Street Rod?
(Their November issue features the Rodster in these two articles.)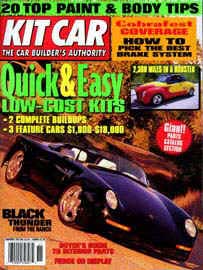 Kit Car
Kit Cars On Tour
by Jim Youngs
We Hit the Road With the Hot Rod Magazine Power Tour for a Cross-Country Jaunt

Hot Rod magazine's Power Tour -- it's a 10-day car show and party (in a new city every night) interspersed with some cross-country driving amid a horde of cool cars, stunned passersby, and car folk of every ilk. It's an after-dark burnout contest on the boulevard in front of the Rock-N-Roll Hardee's in Springfield, Illinois, as the Hot Rod TV cameras roll and encourage the local cars and hundreds of people there to watch. It's an incredible visit to the Northwest Kansas Technical School in Goodland, where the service garages are open and the instructors and students are standing by to help fix or service anything from a bent wheelie bar to a rearend replacement and everything in between. It's snow flurries in the Rockies, unrelenting, three-digit heat across the Mojave, drizzle in Lansing, Illinois, and rain in Denver. It's a steady diet of hamburgers until you get to the Boyd Coddington barbecue in St. Louis. It's the Stinky effect. But best of all, it's a logical expression of our obsession and a long drive for the sheer pleasure of driving.

This was the 3rd Power Tour, and its growth has been phenomenal. Some 125 long-haul cars traveled the entire 2,250 miles from Los Angeles to Mount Clemens, Michigan, but as each leg began, anywhere from 200 to 500 cars of practically every configuration joined in. We saw plenty of hot rods, street rods, a few Pro Streeters, an odd vintage Jag from Canada, new trucks, a lot of old pony cars, a bunch of new pony cars, 4x4s, several Vipers, a few Japanese tuner cars, and, yes, a slew of kit cars -- but only one that made it the whole way.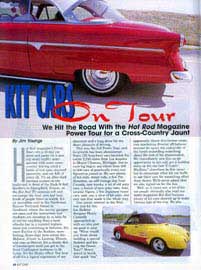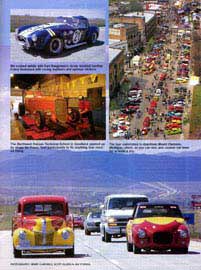 Our initial interest in the tour was just for fun, but Rodster designer Henry Caroselli approached us with an idea just too good to pass up. "What would you think about building a special Rodster and hitting the Power Tour?" Henry asked at lunch. Our quick "yes" apparently threw this former corporate marketing director off-balance because he spent the remainder of the lunch mumbling something about the rest of his presentation. We immediately saw this as an opportunity to not only get a build-up story on the car (see "Cruisin' Machine," elsewhere in this issue) but to encourage other kit car buffs to use their cars for something other than shows. We'll never admit that we also signed on for the fun.

Well, as it turns out, a lot of kit car people obviously also read our sister magazine Hot Rod because plenty of kit cars showed up to make various legs of the trip. We also talked to hundreds more during the jaunt who made a point of searching us out at the evening shows just to say "hi." It was like seeing the pages of Kit Car come alive, since we spent plenty of time talking about various kits, answering technical questions, referring queries about old kits to Harold Pace, and giving out source information for car kits and components. We also got to check out some cool kit cars and watch them run with the big boy cars and such hot rod luminaries as Boyd Coddington, Chip Foose, Posie, Vic Edelbrock, and many others.

Notable among the kit cars we spotted was Thomas Scaman's Beck 550 Spyder. He's a fireworks manufacturer from Stanton, Missouri, and drives much like the Roman candles and sky-blazers he makes. We talked to him several times while his car was sitting in the show areas, but every time we saw him on the road he appeared as little more than a silver streak. He uses his turbo motor to the fullest and not without mechanical consequences.

We drove along for one stretch in company with Karl Baughman's nicely detailed hardtop Cobra sporting race numbers, sponsor decals, and a Terlingua Racing Team sticker. Cobra replicas were, of course, out in force, and we were pleased to watch them run out on the open highway.

The Power Tour has a very simple premise. Get in line at the Petersen Automotive Museum in Los Angeles and drive to Las Vegas, Nevada, for a show 'n shine. Head over the Rockies to Denver for a show 'n not-so-much-shine. Head for the Northwest Kansas Technical School in Goodland for show and a fix for anything that needs fixin'. Find the Metcalf South shopping center in Kansas City, Missouri, for a huge show. Head for Forest Park in St Louis for an even bigger show. Drive to the Rock-N-Roll Hardee's in Springfield for more showing and a bonus of smoky street burnouts. Head for Lansing and line both sides of 170th Street for a show. Head for downtown Mount Clemens to make a grand entrance with the rest of the long haul gang and freeze your butt off for a day of showing.

Each night a meal was hosted and great goodie bags went to all the entrants. The best part was that it only cost $10 to enter, and you really didn't have to enter unless you wanted to eat free each night and get the goodie bag. What a deal. Almost before you knew it, you'd driven 2,250 miles and spent 10 fun days on the road. At each night's show stop there was even a midway filled with performance goodies, T-shirts, memorabilia, and such.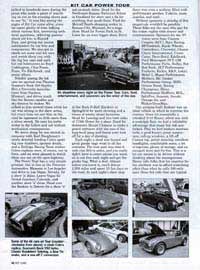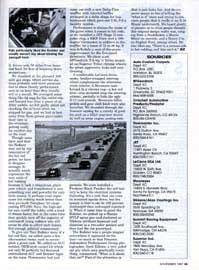 Without sponsors, a shindig of this magnitude wouldn't be possible. These folks are the ones who pay for the cruise nights with dinner and entertainment. Sponsors for the '97 venue were Auto Custom Carpets (ACC), Baer Racing, BFGoodrich, Boyds Wheels, Centerforce, Chevrolet, Classic Chevy International, Crane Cams, Dura-Bond, Edelbrock, Ford Motorsport SVT, GM Performance Parts, Holley, Hot Rod Rock, JET Performance Products, Kicker, K&N, Lokar, Mobil 1, Mopar Performance, Mothers, Mr. Gasket Performance Group, MSD, Octane Boost, Racing Champions, Rhino Performance Mufflers, ROL, SplitFire, Summit, Suzuki, Vintage Air, and Walker/DynoMax.

Our purpose-built Rodster was an ideal vehicle in which to traverse the country. Since it's essentially a rebodied S-10 Blazer, albeit one with a nostalgic flair, we had a reliability advantage that many hot rod cars lacked. Plus we had modern mecanicals, a good heater, great suspension, roll-up windows, a lift-off Carson top, power steering, excellent headlights, comfortable seats, a lot of legroom, plenty of storage, and an aaoogah horn just for fun. This is a kit car meant to be driven without thinking about the consequences. Henry tells folks that his impetus for the platform was to afford something other than what he calls 100-mile cars: those hot rods that are typically driven only 50 miles from home and back for fear of breaking down somewhere.

We chuckled at the planned 100-mile gas stops, where service stations probably sold more premium fuel to these thirsty performance cars in an hour than they usually sell in a month. We averaged something like 24 mpg for the entire trip and burned less than a quart of oil. After a while, we felt guilty about not checking the oil level when we stopped for gas, and we had to look away from those greasy guys under their cars in the evenings, getting ready for another day on the road.

Though some have said that the Rodster may not be representative of the hot rod genre, we have to disagree strongly. It actually nicely represents the very roots of hot rodding, because it took a ubiquitous, plain-jane vehicle and transformed it into something cool and powerful for very little money. It perhaps even represents hot rodding much better than that pro-built fiberglass '34 coupe costing $75,000. Sure, the high-dollar cars instill the hobby with a kind of dream factor, but at the same time they quickly turn off the majority of interested young rodders who will never be able to afford such luxury. But enough political commentary.

To give our Tour Rodster more of a hot rod flair, we added quite a few aftermarket items, each to accomplish a given task. We added an ACC molded, OEM-style carpet kit which not only fit perfectly but featured embroidered ACC and Rodster logos on the mats. Flowmaster had just come out with a new Delta-Flow muffler with internal baffles arranged in a delta shape for less harmonics which gave our 2.8L V6 a healthy rumble.

Performance is always the name of the game when it comes to hot rods, so we installed a JET Stage II computer chip, a K&N filter, and a 180-degree thermostat in addition to the muffler for a boost of 15 to 20 hp. It was definitely a seat-of-the-pants improvement for the five-speed drivetrain. We chose a set BFGoodrich T/A big 'n' littles mounted on Superior Tribar chrome wheels for great, aggressive looks and easy cleaning.

A comfortable LeCarra three-spoke, leather-wrapped steering wheel complements the otherwise stock interior. A Mooneyes tach housed in a chrome cup -- a hot rod icon -- was mounted atop the steering column, partially to hide the ugly S-10 instruments. Mooneyes billet pedals and gear shift knob were also installed. We thumbed through the Summit catalog for a variety of goodies such as a billet rearview mirror as well as some engine cooling components. We even installed a Predator Black Panther dry cell battery to keep the electrical system humming. It's a unit that can even be mounted upside down, but the beauty is that it can be 100 percent discharged then recharged repeatedly. When it came time to paint the Rodster, we picked up a Sharpe HVLP spray gun and slathered on a Sikkens urethane basecoat and clearcoat in a two-color pattern and then had the car pinstriped.

The Rodster was a people magnet everywhere it appeared on the tour -- so much so that Petersen Automotive Performance Group photographer, Scott Killeen, a very jaded car guy who's seen practically everything, commented, "What is it about that car?" Part of the attraction is that it just looks fun. And Henry never seems to tire of telling the "what is it" story and trying to convince people that it really is an S-10 Blazer underneath. We heard plenty of guesses as to what people thought this original design really was, ranging from a Studebaker, a Morris Minor on steroids, and a Henry J to an English Ford, among others. He also likes to say, "There is a serious side to hot rodding, and this ain't it."
---
Kit Car
Cruisin' Machine
How to Build the S-10 Blazer-Based Rodster
by the Kit Car Editors
(To see enlarged versions of the articles and photos of the buildup process, click on the magazine pages.)

Elsewhere in this issue you'll find coverage of our sister magazine Hot Rod's Power Tour, an event in which very cool cars and hearty people make a 10-day trek across America from Los Angeles to Mount Clemens, Michigan. Our involvement in the Power Tour was intended to encourage other kit car folks to participate in something other than shows and parades, to use their cars for what they were intended -- driving for the sheer pleasure of the drive. We also wanted to have some fun and see the USA in a Chevrolet. To that end, Henry Caroselli, the Rodster's progenitor, suggested we build a special version of the car and hit the road with the Tour. Great idea. We took the bait on the first cast. Aside from the promise of a good road trip, we also got to follow along on the Rodster buildup so we could show you how this cool kit goes together.
The Rodster is another of those kit cars based on an unusual, if not unique, donor car platform: a Chevy/GMC S-20 Blazer/Jimmy. The aim of its designer was to create something with a nostalgic feeling on a readily available platform with modern, easily serviced mechanicals that would also be reliable, inexpensive to operate, and safe. It's kind of a why-reinvent-the-wheel scenario -- instead, just make it look different and better and have some fun really driving it. Caroselli wanted to get away from what he calls 100-mile cars: rods that you only feel comfortable driving 50 miles from home and back.

A rebody of the S-10, the Rodster maintains the donor's mechanicals, brakes, and emission system, but even more interesting is that the steel doors are retained without having to be reskinned, and the windshield remains unaltered. Additionally, the interior remains intact even down to the complete dash, seats, door panels, and windows. Of course, such components can be changed with custom or aftermarket stuff, and if parts of the interior are the wrong color, plenty of replacement items are available for swapping. For example, the donor car used here had a dried-blood color interior, so we swapped in seats, door panels, and a dash from a salvage yard for a more soothing gray color.
The basic Rodster kit retails for $3,995 and includes the one-piece tilt-forward front clip, quarter-panels, rocker panels, a tonneau cover, a one-piece rear clip with a trunk lid, doorpost caps, a header cap, and a detailed assembly manual, which you can buy separately for $35 and then apply the cost toward purchasing a kit. Caroselli also offers a Deluxe Kit package for $5,795 which includes practically everything needed to build the car, including front and rear suspension lowering components, a light package, a sportbar kit, and a battery relocator, among other goodies.

After the kit was installed, the rest of the project involved readying the vehicle for paint and then adding the brightwork, lights, grille, and such. We also installed a molded ACC carpet kit, a Flowmaster Delta Flow Muffler for the right sound, a JET Stage II computer chip for better performance, a set of BFGoodrich tires mounted on Superior Tribar chrome wheels, a LeCarra steering wheel, and several Mooneyes trim items such as a column-mounted tach, billet pedals, and a gear shift knob. From Summit's catalog we installed an electric cooling fan, a fuel pressure gauge, and a billet rearview mirror. A Sharpe HVLP spray gun was used to slather on the yellow and red Sikkens paint. The cross-country Rodster was then pinstriped before it was ready to rub elbows with top-name rodders.
---