What is Kit Car Magazine saying about the Rodster® Street Rod?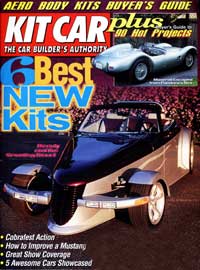 Kit Car Magazine
September 2000
CALIFORNIA CLASSIC
Knott your usual kit car show!
text and photos by Harold Pace
The 21st Annual Knott's Berry Farm kit show was another rousing success, even though there were a few surprises in store. Just when everyone had gotten used to displaying their kits in a shady, tree-covered parking lot in past years, the park owners moved the show! OK, it was only a few hundred yards away and the new location was a nicely paved lot, but there wasn't a scrap of shade. However, as many an entrant observed, this also eliminated the dust and tree sap that had accumulated on kits during past shows. In the end, most considered it a wash, pardon the pun, and brought their own shade in the form of umbrellas and sun shades on Sunday.

The new location didn't seem to affect entrants, who turned out in force (more than 200), although there seemed to be fewer spectators than in years past despite clear, sunny skies. There were also a number of kit manufacturers on hand with some exciting new models to show off.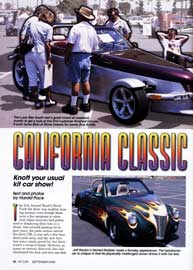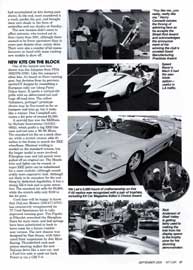 NEW KITS ON THE BLOCK
One of the hottest new kits shown was the Jalapeno from PISA (602/376-1550). Like the company's other kits, it's based on Fiero running gear, but deviates from its previous sports/GT designs by resembling a European rally car (along Paris/Dakar lines). It sports a vertical-slit grille with an abbreviated tail and huge off-road tires. The yellow (habanera, perhaps?) prototype shown may be fine-tuned as far as bumpers and grim go, but it looks like a winner. Dan Campbell estimates a new kit price of around $3,500.

A new/old face was the XKMiata by Stylistic Innovations (310/221-0932), which grafts a Jag XKE-like nose and tail onto a '90-'98 Miata. The standard kit fits on a stock chassis, while a stretch version adds 61/2 inches to the frame to match the XKE wheelbase. Minimal welding is needed on the standard version, but the longer model is more involved. Fiberglass nose and tail panels were pulled off an original car. The Mazda trim and lights can be reused, or repro XKE parts can be substituted for a more realistic (although considerably more expensive) look. Although not likely to be mistaken for the real thing by dedicated Jagaholics, it has a strong XK-8 look and is quite attractive. The standard kit sells for $3,900, while the stretch adds only $100 to the kit price.

Cord fans will be happy to know that DuLoux Motors (530/477-0707) has extensively reengineered its '37 Cord Sportsman kit to take improved running gear. Tim Figuhr at FiberJet reworked the fiberglass floors for more room, and leaf springs have been substituted in back to leave room for a future rumble-seat version. The new chassis was designed by Dan Souza, with fabricated front suspension by Jim Myer Racing. Thunderbird rack-and-pinion steering makes the new DuLoux drive like a new car, and a Ford live axle is used out back. Power is via a GM V-8.

The famed Hummer provided inspiration for the new Hum-Lite from Tweed's Innovative Designs (760/747-7210). Although this kit is virtually fullsize, it's based around a lightweight tube frame setup for VW and V-6 engines out back. The body is aluminum with steel reinforcement and is fitted with a fiberglass hood and doors. The kits are sold in several stages with a list of options including interior packages and wiring harnesses.

Porsche 914 owners will rejoice at a new kit that transforms the mid-engine P-wagen into a fire-breathing sports racer. The F-Zero is built by Keith Wright Enterprises (541/269-1347) and features fiberglass nose, tail, rocker panels, and door skins. The show car also had the top removed, an impressive tail spoiler, and steeply raked windshield. The wheelwells will accept huge 285/40ZR-15 front and 345/35-15 rear tires. The basic kit ($3,000) includes all of the above, while the Deluxe kit adds a vented hood, front fender extractors, and the rear wing for an extra $800. Just to show his versatility, Wright installed a Ford 302 in the back -- something he had long been told could not be done. With a remote water pump and some firewall mods, it slipped right in!

Precision Design (760/750-0230) normally is content to produce its snazzy Modena Spyder replica, but burning mere gasoline seems so... yestertech. So the company is working on a hydrogen conversion for its Ford engines that will hopefully add around 20 percent more power while reducing emissions. Precision Design is awaiting a special distributor that will allow it to get the conversion up and running in a few years. The company had a show chassis with the hydrogen tank and controls in place, and its booth was surrounded by interested techies all weekend.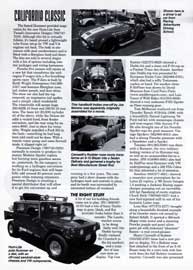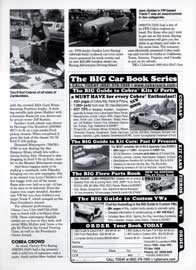 THE RIGHT STUFF
A lot of our kit-building friends came out to play. IFG (909/597-4110) had a trio of fancy Diablo reps in gray, black, and flat lavender (looks better than it sounds). The Lambo market seems to be doing fairly well (the Diablo having finally replaced the Countach in the kit market), and a number of nice cars were on display. Top Gun Exotics (323/273-0623) showed a Diablo kit and a clean red F-50 rep on a Pontiac Trans Am chassis. Another nice Diablo rep was presented by European Exotic Cars (562/868-0761), which also had a nifty Testarossa replica on hand. yet another clean F-50/Fiero was shown by David Shannon from Used Fiero Parts (www.usedfieroparts.com), and Luis Yanez of Wild Rides (915/855-6006) shoed a very authentic F355 Spyder on Fiero running gear.

Tom McBurnie trailered out from Thunder Ranch (619/444-1006) with a beautifully flamed Lightning '34 Ford rod kit with monocoque chassis and rear-engine Olds Aurora V-8. He also brought one of his Porsche Spyder reps for good measure. Vintage Spyders (562/865-6331) also had a strong Porsche presence with a Speedster and a Spyder.

Tatonka (801/262-8200) was there with a Bummer, the very military-looking version of its Hummer rep, as well as an unassembled kit on a trailer. JPS (818/985-8891) also had its HalfVee mini-Hummer with VW underpinnings and a 289 FIA Cobra kit that attracted a lot of attention.

Xanthos (858/277-4681) showed a muscular new powerplant for its Lotus23 replica, a '96 Acura Integra 1.8 packing a Jackson Racing supercharger pumping out an incredible 238 hp! Speaking of exotic engines, Chuck Beck (760/949-0227) had a new fuel-injected mill in one of his fantastic Lister reps.

Lone Star (877/572-2277) brought along a beautifully finished example of its Growler street rod owned by Robert Schilb. It sported a 360-inch Mopar crate motor and a stunning Prowler purple and pearl silver paint job with iridescent "phantom" flames--a real crowd-pleaser.

Henry Caroselli of Rodster (310/322-2767) fame had a new project on display. It's a Rodster nose that attached to the front of an S-10 Blazer body for a retro look with less work than the full Rodster treatment requires. Caroselli was also presented with the coveted AHA Good Manufacturing Practices trophy. A striking metallic jade green Rodster with a fantastic flame job was driven out by proud owner Jeff Rankin.

Another truck rebody was shown by Heritage One Hundred (253/862-8977) to fit on a late-model Ford pickup chassis. When completed it gives the look of the classic '53-'55 Ford F-100 pickup.

Diamond Motorsports (760/591-4786) is now dealing the Jim Simpson Miata rebody kits with a strong Italian flair. Diamond is also dropping in Ford V-8s up front, similar to the Monster Motorsports swaps.

And dune buggies seem to be making a comeback, with FiberJet bringing out two new examples. Not to be missed was Lynn Christy's yellow buggy with one of the nicest flame jobs ever laid on a car -- it has to be seen to be believed. Even the engine was super detailed. Another nice VW kit was Jess Golden's nostalgic Track-T, which scooped up the Past President's Award.

For ultimate performance, Ultima Cars USA (949/722-4703) was on hand with a brilliant silver GTR. These mid-engine English exotics are as fast as they look, and owner Mike Mullen took home a trophy for First in the Grand Touring Class, as well as the President's Choice Award.
COBRA CROWD
As usual, Factor Five Racing (508/291-3443) had a big presence with a solid row of customers and a nasty, black carbon-fiber-bodied race car. FFR dealer Gordon Levy Racing (480/446-8442) trailered out even more racers prepared for track events and its new $24,995 turnkey street car. Racing Adventures Driving School (888/572-7223) had a few of its FFR Cobra replicas on hand. For those who can't wait to get out on the track, Racing Adventures will give you the skills to go faster and safer at the same time. The company uses identically prepared Cobra replicas and travels to tracks in California, Texas, Arizona, Virginia, and Canada to put on its schools.

XK's Unlimited (800/444-5247) has a new division, Shelby Cobras by XK's Unlimited Motorsport, that sells CSX 4000- and 7000-series Cobras. The company showed both a finished example of a 4000-series and an aluminum-bodied, unfinished chassis.

Another new player in the Cobra parts market is New Old Stock Motorsports (602/790-5856), which sells parts and aluminum and fiberglass bodies for kits and original Cobras. Michael Kenney, late of Hi-Tech, is in charge.

Other stalwarts present included Superformance, Contemporary, JBL Motorsports, Unique, Mid Sates, and Shell Valley, whose spectacular silver-and-gold-striped 500+ demonstrator took home three major trophies, including Best Paint. Steve Miller impressed all with his Superformance Snake bored out to 454 inches for track events. There was even an older Butler Cobra replica painted a brilliant shade of copper and fantastically detailed by Mick and Pat Fabing. Jim Woodard's gleaming black Lone Star Snake was a head turner (and award winner).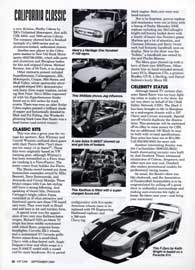 CLASSIC KITS
This was also a great year for vintage kit spotters. Ken Whitney and Carroll Wassom confused show-goers with their Fiero 600s ("Isn't there one too many r's in there?"). These kits were originally based on VW running gear, although Whitney's has been reinstalled on a Fiero chassis (making it a Fiero-Fierro). The name comes from builder Joe Fierro.

The Manta crowd turned out three immaculate examples owned by Mike Bennett, Dave Brownowski, and Armando and Connie Montijo. These brutal coupes with Can Am styling still have a strong following. And speaking of classic kits, Dominick Cacioppo's bright yellow Puma reminded us of what attractive and functional sports cars these VW-based cars were. They were built in Brazil and sold here in kit and turnkey form.

A special treat was the appearance of two very nice Kellison/Astra coupes. Richard Gill's jet-black '57 coupe has been mildly customized with wheel flares, projector-beam headlights, Corvette ZR-1 wheels, and a customized '57 Corvette grille. Power comes from a small-block Chevy with a four-barrel carb. Augie Delgado's blue and white coupe is a rare X-300GT model with a raised roof for more headroom. It's in period configuration with five-spoke American wheels (soon to be replaced with PS Engineering Halibrand replicas) and a 396-inch Chevy big-block engine. Both cars were real head-turners.

Not to be forgotten, prewar replicas and neoclassics were out in force with a lineup of flashy Mercedes 500K replicas including Jay McCullough's bright-red beauty loaded down with a family of bears! Jan Ferrier's green Marlene got a lot of attention, and Clarence Johnson and Barry Grant each had fantastic handbuilt neos on display. New to the show was the "Indian," a handbuilt neo owned by Joe and Phyllis Moreno.

The Mera guys showed up with a bevy of their nice 308/Fieros. Other classic kits on hand included several Laser 917s, Magnum GTs, a pristine Bradley GT-II, a Sterling, and Darryl Salmon's lovely Manx SR.
CELEBRITY STATUS
Although famed TV cartoon character Speed Racer was too busy fighting crime to make it to the show, his car was there on behalf of the Child Safety Network (SCN). The Mach 5 has been brought to life in fiberglass on a mid-engine chassis with a 327 Chevy and Corvair transaxle. Special one-off wheels duplicate the illustrations. This prototype will be auctioned off on eBay to raise money for CSN, but an additional 100 Mach 5s may be built with revised specifications. Base price has been set at $61,000. Call 858/292-8003 for more info.

Another interesting display was the Carllectibles (909/335-9642) booth showcasing ceramic cars built by Joel Dunford. These whimsical miniatures of Cobras, dragsters, and other cars are way cool. Dunford also makes promotional models for professional racing teams.

As usual, the Knott's show ran like clockwork, and the Association of Handcrafted Automobiles is to be congratulated for pulling off a great show in unfamiliar surrounds and making sure everyone felt right at home. Be there next year -- and bring your sunscreen!
---