What is Automobile magazine saying
about the Rodster® Street Rod?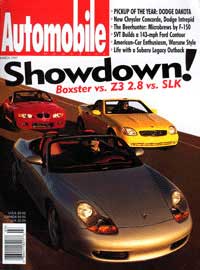 Automobile Magazine
by Jean Lindamood
Presto Change-o, the Rodster
Newport Beach, California -- Henry Caroselli's friends wonder if he's gone a little off his nut. Here he had this perfectly good job at Disneyland -- creative director for advertising -- and he kissed it goodbye because he just couldn't stop thinking about this car he wanted to build.

"It was one of those strange things I needed to do," says the very affable forty-seven-year-old Caroselli. "I had a lot of 200-mile cars. You know, cars that you would drive about 100 miles out of town and then you'd get nervous about whether they'd make it back and you'd head for home. I wanted a car that I could drive a lot."

My guess is that it all started, Caroselli's dream of building his own car, back in the pre-Disneyland days when he worked at the Foote, Cone & Belding ad agency on Mazda's Miata advertising. Thinking about the freedom and simplicity and beauty of Miatas all day long must have got him going. Changes at Disneyland about six years after he started working there gave him the opportunity he was waiting for, and off he went. It's the direction in which he went that's so nutty.

Have a look at the before and after shots below. The little red roadster is Caroselli's Rodster. And it came from a big old 1989 Chevrolet S10 Blazer -- windshield, doors, engine, transmission, interior, and all. Which goes a way toward explaining why the Rodster looks the way it looks.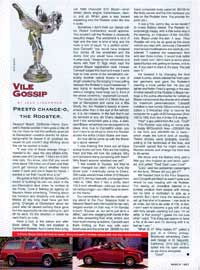 Somehow I don't think our design editor, Robert Cumberford, would approve. You wouldn't call the Rodster a classically beautiful shape. The windshield is kind of high and the door is kind of long and the nose is kind of squat. "In a perfect world," says Caroselli, "you would have chopped four inches of the windshield and doors. And you would have moved the A-pillar back." Keeping the windshield and the doors with their ID tags intact kept the original Blazer registration valid. Instead, Caroselli bulged the hood and made it extra high to hide some of the windshield's verticality. Another optical illusion is one of length created by the bulging V-nose jutting between the Rodster's round headlamps. "I was trying to reconfigure the proportion without hanging more body out in front of the wheel centerline," explained Caroselli.

The results are kind of a Miata that got lost at Disneyland and came out a little Goofy. No, the Rodster's beauty is somewhere other than in the eye of the beholder. It is, for instance, in the fact that it can be serviced at any old Chevy dealership. And if the windshield gets a chip, a standard Blazer windshield can be popped in its place. And, true to Caroselli's vision, you don't have to be afraid to drive the Rodster across the entire United States and back.

So how did he come up with the Blazer as a donor vehicle?

"I was thinking that there are all these pickup trucks out here. Kids are hot-rodding them and they still look like pickups. Why isn't someone doing something with them? Why hasn't anyone rebodied one yet?"

"I first looked at Toyotas, but they've been changed too often, which hurts the donor pool. I eventually came to Chevy. GM made almost three million S10 Blazers and S15 Jimmys basically unchanged from 1963 to 1994. And it has a pretty short 100.5 inch wheelbase -- pickups are about six inches longer -- so I didn't have to shorten the frame."

Our conversation outside the valet parking stand at the Four Seasons hotel in Newport Beach was interrupted by two very elegant women on their way in for Sunday brunch. "Excuse us, but we're just all in a dither," said one, wagging both hands in the air. After answering their what, where, and how-much-money questions, Caroselli sent them trotting on their way with color brochures and the price list. ($3995 for the basic composite body panel kit; $5795 for the body panels and the trim hardware you see on the Rodster here. You provide the paint job.)

It was a fine, sunny day, so we decided to cruise Balboa Island. The Rodster felt surprisingly happy, with a little extra slop in the steering, an indication of the 104,000-mile Blazer-under-the-skin. It was. (Your Rodster will only be as good as the donor vehicle you start with, obviously.) Caroselli's mechanical modifications are carefully considered. "I lowered the suspension front and rear three inches. It would look better even lower, but I didn't want to worry about speed bumps and getting on ferries, and so on. If you want to slam it, it's easy. You just slam it."

He lowered it by changing the front lower A-arms, which altered the front camber geometry and gave the Rodster's steering a more carlike feel. He also put lighter and flatter Posie's springs in the rear. Another benefit of the Rodster's Blazer heritage is the active aftermarket for hotted-up Blazer components like shocks and wheels for maximum personalization. Caroselli installed a nice rumbly Gibson exhaust and added a Z-Industries chip to recurve the computer for a gain of 25 horsepower (from 160 to 185) from the 4.3-liter V-6 engine.

"Hey!" a guy yelled from the curb. "Cool!"

This Rodster was riding on some pretty meaty BFGoodrich tires -- 225/50R-15s in the front and 265/60R-15s in back -- which made the turn-in kind of squidgy. Tokico shocks were probably overkill, adding to the harshness of the tires, and Caroselli opined that he might switch to Monroe shocks and change the front tires to 60-series.

We drove onto the Balboa ferry past a little guy who hopped up and down, pointed, and yelled, "Dad! Dad! Look! Cool!"

"Cool," said two pedestrian passengers on the ferry. "Where did you get it?"

We headed back to the Four Seasons, and Caroselli admitted he wasn't quite sure where he was heading with his Rodster. "I'm seeing an incredible interest in a turnkey product from people with money but no time or inclination to pick up a wrench. But I don't have the resources to set up that kind of business. I can build to an order, but not to an order of 100. In fact, I don't want to become a guy with a shop with forty people cranking out cars. I'm an artist. Is that wrong? I guess I'm not sure what I want. This thing just seems to have a life of its own, and I'm dancing with it as fast as I can."

"What IS it? Who makes it?" yelled a guy in a Chevy pickup. Brochures advertising Caroselli Design in El Segundo, California (310-322-2767), sailed into his open window as we drove alongside.

"Cool!"
---