What is Kit Car Magazine saying about the Rodster® Street Rod?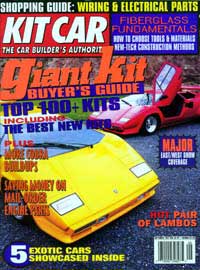 Kit Car
by the Kit Car Editors
Our Picks for Standout Kit Cars
We've decided to give you a little bonus to our Buyer's Guide of Top 100 Kits in the form of this story highlighting five outstanding new kit cars that have been introduced in the past year or so. We chose these vehicles for a number of reasons, not the least of which is that they represent new thought, new direction, good value or high quality, or combinations thereof.

We readily admit that the results weren't arrived at through any clinical evaluation. We just like these vehicles -- and like each of them for different reasons. We think the cars featured here are standouts among all the kit products recently introduced. These cars aren't award winners per se, but cars that piqued our admittedly jaded interest levels and lingered in our respective memory banks.

As you'll notice, these five cars represent a neat cross section of the kit car world. There are two VW-based kits, one a replica of a real car and the other a novel off-roader destined to become the Manx of the 21st century. We've included a new Cobra replica model intended as an entry-level offering and even found a South African import that will give Plymouth's Prowler a run. Rounding out the Top 5 is a fun, quasi street rod built on a GM sport/utility chassis.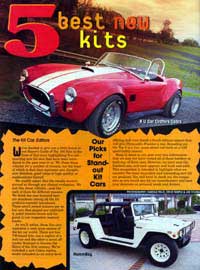 Keep in mind as you pore over this information that we may not have visited all of these builders or built any of these cars. However, we have seen the finished cars and each appears well built and solid. This recognition is intended to highlight what we consider the most innovative and interesting new kit car products. You still have to check out the companies as you would any kit car manufacturer and base your decisions on personal needs and desires.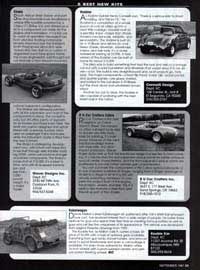 Rodster
As Rodster builder Henry Caroselli says, "There is a serious side to street rodding, and this isn't it." His Rodster is a compilation of a whole bunch of cars all rolled up into a neat little nostalgic roadster built on a plentiful donor chassis that affords modern mechanicals, reliability, and serviceability. The Rodster is built on an S-10 Blazer and retains an unaltered chassis, drivetrain, wheelbase, interior, and fuel tank. It's a nicely molded kit starting at $3,995. A trick version of the Rodster can be built at home for about $12,000.

The idea was to build something that had the look and feel of a vintage car but with a solid foundation and drivetrain that would allow it to be driven -- a lot. The build is a very straightforward and, as kit projects go, fairly easy. The major components -- a front flip hood, a rear clip, rocker panels, and quarter panels -- are glued, riveted, and bolted to the cut-down S-10 Blazer, but the stock doors and windshield remain intact.

Another fun car to drive, the Rodster is also capable of posturing with the best street rods in the nation.
---