What is Kit Car Illustrated saying about the Rodster® Street Rod?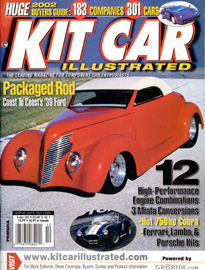 Kit Car Illustrated
Fun with S-10s
by Steve Lancaster & Mike Blake
Caroselli Designs uses the Blazer platform as the basis for its Rodster and Sedan Delivery
The conversation progresses along familiar lines where El Segundo's Henry Caroselli, of Caroselli Designs, is concerned. It begins innocently enough, with the polite, "What is it?" query, maybe at the local grocery store or even during a brief stoplight pause. A "Where did you get it?" and "Did you build it yourself?" follow the initial inquiry in rapid succession. A warm, amiable smile crosses Caroselli's features--after all, this is comfortable ground where both he and his creation, coined "the Rodster," are concerned.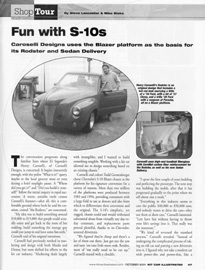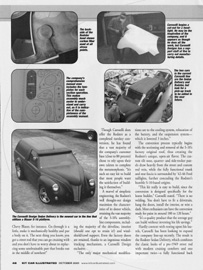 "My idea was to build something around $10,000 to $15,000 that people could actually enjoy and get back to the roots of hot rodding; build something the average guy could just jump in and have some fun with," Caroselli said of his original intentions.

Caroselli had previously worked in marketing and design with both Mazda and Disney, but soon shifted his efforts to the kit car industry. "Marketing deals largely with intangibles, and I wanted to build something tangible. Working with a kit car allowed me to design something based on an existing chassis."

Caroselli and cohort Todd Gerstenberger chose Chevrolet's S-10 Blazer chassis as the platform for his signature conversion for a variety of reasons. More than two million of the platforms were produced between 1983 and 1994, providing consumers with a large field to use as donors and also from which to differentiate their conversion and the original. The S-10's simplistic, yet rugged, chassis could and would withstand substantial abuse from virtually any day-to-day commute, and replacement parts proved plentiful, thanks to its Chevrolet-sourced drivetrain.

"We figured they're cheap and there's a lot of them out there. Just get out the saw and turn 'em into little street rods. Besides, most of 'em really need to be cut up," Caroselli mused with a chuckles.

"I spent the first couple of years building and perfecting the prototype. The next step was building the molds, after that it has progressed gradually to the point where we sell about one a week."

"Everything in this industry seems to cost the public $40,000 to $50,000 now, and nobody wants to drive the cars--they use them as show cars," Caroselli lamented. "Let's have fun without having to throw your life's savings into it. That really was the intention."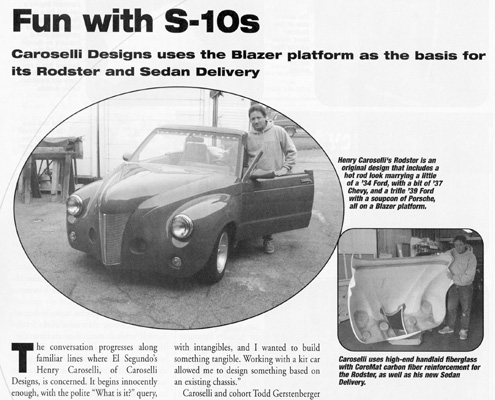 "We kind of reversed the standard process," Caroselli revealed. "Instead of undergoing the complicated process of taking an old car and putting a new drivetrain into it, I figured why not take a modern car with power-this and power-that, like a Chevy Blazer, for instance. Go through it a little, make it mechanically healthy and put a body on it. The next thing you know, you got a street rod that you can go cruising with and you don't have to worry about replacing some unobtainable part that breaks out in the middle of nowhere?"

Though Caroselli does offer the Rodster as a completed turnkey conversion, he has found that a vast majority of the company's customer base (close to 80 percent) chose to rely upon their own talents to complete the metamorphosis. "It's such an easy kit to build that most people want the satisfaction of building it themselves."

A marvel of simplistic engineering, the Rodster's well thought-out design maximizes the characteristics of its donor vehicle, retaining the vast majority of the S-10's assembly-line components, including the majority of the driveline, interior (should one opt to retain it!) and windshield/cowl support. Even the factory doors are retained, thanks to an ingenious window tracking mechanism, a Caroselli Design exclusive.

"The only major mechanical modifications are to the cooling system, relocation of the battery, and the suspension system--which is lowered 3 inches."

The conversion process typically begins with the sectioning and removal of the S-10's factory original roof, thus creating the Rodster's unique, open-air flavor. The custom tilt nose, quarter- and side-rocker panels draw heavily from the street and custom rod vein, while the fully functional trunk and rear fascia is surrounded by ;42-46 Ford taillights, further concealing the Rodster's humble S-10-based origins.
"This kit really is easy to build, since the conversion is designed specifically for the home builder," Caroselli stated. "There is no welding. You don't have to fit a drivetrain, hang the doors, install the interior, or wire a dash. Most enthusiasts can have the conversion ready for paint in around 100 to 120 hours."

"It's a quality product that the average guy can build without investing his life savings."

Hardly content with resting upon his laurels, Caroselli has been looking to expand the company line-up recently. The result is the Rodster Sedan Delivery, which combines the classic looks of a pre-1949 street rod with modern cruising comforts and one important twist--a fully functional back seat and/or utility storage.

"The Sedan has been getting great response, mainly because of the business aspects," said Carosellli. "It's opened up a whole new avenue for business owners, in particular. It really is a no-brainer. The Sedan is a great advertising tool that people can actually run parts in."

We saw the Sedan Delivery at the recent AHA kit car show at Knott's Berry Farm, and it stood out from the many wonderful cars at the show, because of its innovative look and classic, yet-new design.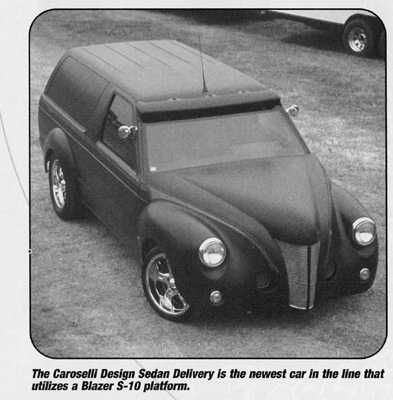 Thinking about the future, Caroselli envisions a pickup truck in the near future--maybe a kit version of the revered '59-70 El Camino. That, too, according to Caroselli, is a "no-brainer." He said, "I've got some ideas on how to do that, and I've had some customers that have bought a nose only, for use with their pickup truck. There are lots of ways to go with Blazer chassis. It is a neat little chassis, that is easy to find and real serviceable. I wouldn't be surprised if in the near future, the S-10 will challenge the Mustang II and the Fiero as the most popular platform/donor on which to build a kit car."

Caroselli, who was voted the AHA's Good Manufacturer's Practice Award in 2000 (given to the industry icon who best serves the industry and the public good), enjoys the industry as he told us: "The business is real steady...it's a good business to be in. Customers call me all the time and tell me how cool it is that they've built something that they're actually using."

And judging by comments from those who drive Caroselli's Rodster and Sedan Delivery...they are just as happy and as proud to be driving them as Caroselli has making them.

Caroselli Design
128 Center St.
Suite B, Dept. KCI
El Segundo, CA 90245
www.rodster.com
(310) 322-2767

---