What are Rodster® owners saying about the Rodster® Street Rod?

A Few Words With ROD DECKER

San Pedro, California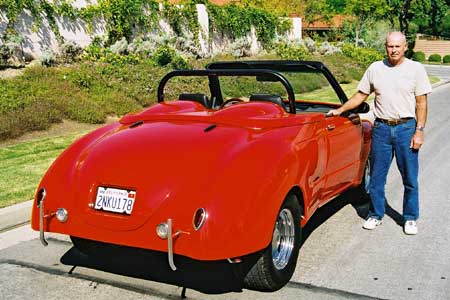 Tell me about the general ease of assembly.

The manual was quite explicit. It was a good guideline, especially in the beginning. It had good ideas about preparing the car mechanically before you begin disassembling the car. I found that I definitely needed the background and experience in automotive engineering that I have from building other cars to be able to evaluate exactly what needed to be done. I know without Henry standing over somebody and showing him exactly what he's talking about, you definitely had to have some mechanical background to do it. A complete novice maybe wouldn't know where to start cutting the top off. But basically, it was a fairly easy to follow manual.

I guess Henry was trying to make it all things to all people, including people with no experience.

I'd say a total novice would have a little problem; somebody just off the street who has never built a car before.

Actually, I've talked to people who said it was their first car and they'd never really done anything like it before.

Well, it depends on the individual.

Look on the website.

I did some off-road racing. Built some cars for off-road racing. Successful in the Baja 1000; won it three times. So I'm not a novice building cars and fabricating metal. I found a better solution to a few things just from my background and experience, not that the original design or guidelines couldn't be followed. I followed most of them. But I found that there were some things I did do I felt were an improvement and I discussed them with Henry. He agreed I had a lot of good ideas. I think it's his fourth or fifth edition. It's a well designed car. I can't go anywhere without, you know, people saying, "What is that?," you know, you have ten people around asking what it is. Henry said it's one of the best he's seen. A really well prepared car. Paint job, of course, is kind of the key to the appearance of it. The preparation's everything, like anything else you do. Putting the back on with the Vette glue (Vette panel adhesive) and lining it up and being prepared takes some ingenuity and forethought. And making washers and making things work because the AOM guy from GM says, this is within tolerances -- but every S10 is different. You find that one S10 might be closer in tolerances and the assembly, the putting together, might be a little bit easier. Again, it depends on if you bought a car that's been wrecked in the front but you don't know that by general appearance, but the frame's been bent, but you do the best you can finding a good donor car and then go from there. You do the best you can. Overall, I'm quite satisfied with it. Second time around, I could probably build it in half the time.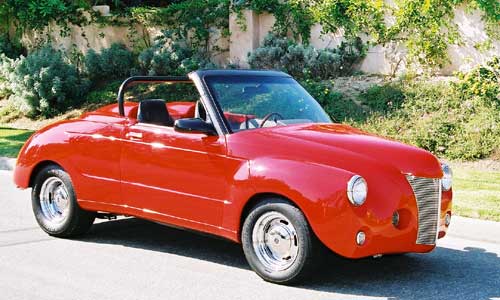 How long did it take you?

I bought the car in February and... complete drivable, paint and everything, it took me about six months. There's a guy that'll build them -- according to Henry, it took him three months. He said, basically, about 120 hours is the guideline. If that's all you're working on and that's all you do, and you get up in the morning and that's your job. You've got to have the tools to do the job. Without the tools, you might as well not even start. He had a good list of tools that were necessary, anywhere from all your metrics -- because in '89 Chevy went all metric, so there's no American standard -- so you have to have a complete set of metric wrenches. You should have a complete set of metric taps and dyes. You have to cut tab bolts metric -- you should have those because you have to go fetch and go to your local hardware store. I had a lot of stuff that I used that I cut and threaded myself. Overall, you can do it by following those guidelines, but I think it really helps to have some experience. The end product is the key... the overall finished product, to have it exactly the way it should be, without any loose ends. Doing the front end, you've got to drop the lower control arms and replace those with the lowering kit, which is quite a feat. Takes a lot of work to pull those springs out and drop the lower control arms and replace them. So there's a lot of work involved, there's no doubt about it. It's not a piece of cake, as far as I'm concerned.

Did you do it all yourself?

Did everything but the paint. I did do a couple of things, one thing that -- probably, guys don't have to do unless their bearings are shot -- I put bearings in the tranny and stuff like that. The carrier bearings and wheel bearings and differential in mine were howling, so I put an Auburn 373 lock-track (limited-slip differential) in it and put all new bearings in it; I just dropped the rear end ratio down to 373 instead of 342; it gives you more performance off the line. But I had to do it anyway, and with the lock-track you have both back wheels driving, which is very essential to me. I would recommend to put that in the manual, that if you want to get decent performance without engine modifications, just change the differential and put a lock-track in it, which runs about $1,000. You can put as much money into it as you want to put into it. The overall quality of the automobile is based on how much you spend and what you do, you know, how much money you want to spend to do it right.

How much have you invested in it?

$17,000.

Does that include the donor car?

Yes. I haven't added up every little nut and bolt, but the basics, tires and wheels and differential, carpet kit. Paint was $3,000, which is a darn nice paint job, Tahoe Red, the '99 Tahoe Red, and it came out real nice. Set of nerf bars -- had them chromed -- and all the little extra things to make it right.

You mean custom things?

Yeah, custom things. You can't buy nerf bars. You have to have them made. I have a friend that I race with, he has a shop down in Temecula and we fabricated them out of one inch chrome moly and bent them and then I sent them over and had them chromed. Made the cap fit right into the rear frame horns; tubular -- they're flat -- so they bolt onto the rear frame horns to shim a spacer in between so that the bars would fit through the body. Some things that I should have done before I took the back section out. But, it's a lot of engineering, you know, afterthought and design, and to come up with these other little things makes it a complete car.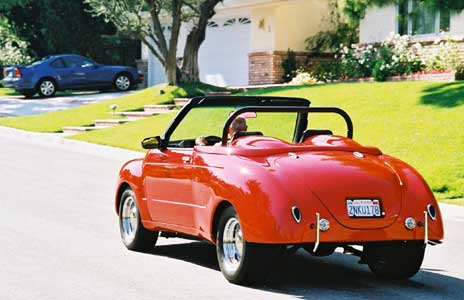 What did you think of the fiberglass of the kit?

It's just about the best you can probably buy today. It's the best kit available in my opinion. Everything is just perfect. It's not a flimsy kit at all. Very well done. I have to compliment Henry on the design. I know he's spent a lot of time engineering and designing that before he went into production with it. Did a heck of a job. I'm real pleased with it.

How was the fit to the donor car?

It was great. It's kind of touchy when you have to put the back section on, and you drill for the rear mounts and you fit it, then you take it off and strip the panels on both sides to the bare metal, then you start with the Vette glue and make sure you catalyze it correctly. If you mix too much red in it, it'll set too quick and go off on you. That's one of the most critical aspects of assembly is attaching that rear section to the panels with Vette glue.

Have you done kit cars before?

Just some Baja kits. Baja Bugs, Volkswagens. I've never put together a complete kit car before. I've put together race cars for off-road racing.

When did you run the Baja?

I raced from '75 to '80. I won the Baja 1000 three times in a row. In '79, I went to La Paz -- Ensenada-La Paz -- which was 1,000 miles and I took second.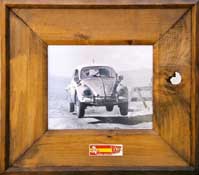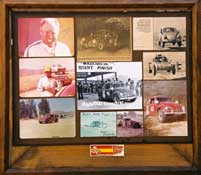 In the Baja 1000, were you first overall or first in class?

First in class in '76 Baja 1000. There were 380 vehicles involved in the "Wild Wet 1000." It rained 13 hours before the race. They had the start on Saturday instead of Friday from Ensenada. It was terrible, but we finished it first in class out of 380 vehicles, including motorcycles. We were 34th overall to cross the finish line. That's with a '67 stock Volkswagen. It was Class 11. We had to run everything stock, but you could do suspension modifications and things like that. Raise the front a little. I thought that was one of the best races that we ever ran. To be able to beat all those people -- they couldn't believe it that this Volkswagen could beat them, you know. We placed first in several performance classes, like 4th in Class 1, which is the ultimate, maximum, fast cars. So all the way down the line, we'd have placed in the money in every class, including motorcycles. I mean, 34th overall, out of 380 vehicles, that was a pretty good feat. Had an article in VW Greats magazine. Three or four page article in the magazine. They came out and took pictures. 'Course, I saved the magazine.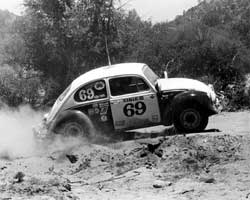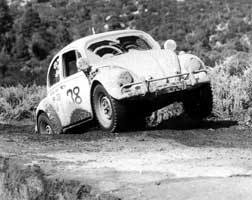 Volkswagen must have loved you guys.

Yeah, but they're quite a lot more sophisticated now. It'll cost you five times as much to build the same car. When you do something like that, you've got to throw everything aside. You work, you prepare the car, and you race. All your spare time is used up by rebuilding and preparing the car for the next race.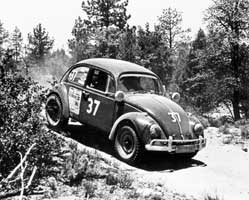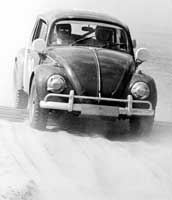 I know. I used to do some road racing and you have to be completely focused on the racing.

In my early days, I liked the sports car races. Road racing at Willow Springs and Laguna Seca, Torrey Pines and all those different races, that was our interest back in those days.

Did you race back then?

I didn't do any of that road racing type of stuff. Couldn't afford to buy a car back then, you know. My cars have always been my biggest interest... Anyway, back to the Rodster. You have to see it to realize how nice it is.

Henry mentioned your beautiful red paint job and your chrome Baby Moons.

Have you seen any of his cars? He has that black one with the flame job on it. Those are Chevy rallies, rally wheels. The back ones are 15 X 8's, which are 'Vette wheels, and the 15 X 7 wheels are Camaros. The rallies in front are chrome and the back 15 X 8's are chrome. I just happen to find them in the Pennysaver for $300, which included the little flat police caps. They really set the car off, rather than painting them silver. That really makes a heck of a difference. But Henry's red car looks good.
Are you planning to show your car?

I took it to "Cops for Tots." "Cops for Tots" is a car show up at the Los Angeles Police Academy, on October the first. Brought back old memories -- that's where I graduated from. Twenty years LAPD -- '63 to '83, and I worked over here at the Port of Los Angeles for the L.A. Port Police, May '83 to '97.

Did you get into any good chases?

Lots of good chases when I was on the PD... long ones.

What do you think of all the chases now?

I think it's interesting. I'd rather watch a police pursuit than any TV program. Yeah, I think they're quite interesting. I always went to work to do things like chase somebody or chase them in a car, 'til you get into the real long, fast, dangerous pursuit, and you'd say, "Yeah, that was fun, but boy, was that dangerous."

That's the racer in you.

It's a competitive attitude you gain through your fitness and athletics, competing in athletics in high school and college. It sticks with you. Cars are part of the feeling.

Let's get back to your Rodster. I was wondering where your donor came from.

It took me a long time to find one. I wanted a 4.3, not a 2.8 -- they have no performance and it has an early 700R transmission, which is not as strong as their later Series III, which came with the 4.3. If you get up into the 90's, '93, something like that, you have to spend too much money and you don't want to do that, spend a lot of money for... you know, $6,000 for a car, you don't feel like cutting it up. So an ideal, I wanted to pay like $3,000, $3,500 and I found an '89 S10 in Azusa. Saw it in Pennysaver. Went up and saw it, and gave the gal a down payment, and took it home the next day. An '89 S10 2-door, of course, and it originally had a Tahoe package, and a roof rack, and tilt wheel, cassette player... Everything worked good. The upholstery was good -- I had to do a little patchwork on it and get a new carpet kit. Overall, it was a terrific car to cut up. I didn't feel bad about cutting it up because the paint was so bad.

How much mileage did it have?

It had 112,000. Probably, for an '89, you're talking 110,000 to 160,000, 170,000 miles on them. I just took my chances that the transmission was fine and didn't leak. The engine checked out fine; did a compression test and found out that it was in pretty decent shape for 112,000. So I didn't have to mess with the engine or transmission yet. Probably never will, because I'm not going to drive it that much. But it doesn't use oil, good compression, runs fine, transmission's in good shape, and I don't have to mess with it.

So it's 2-wheel drive?

Two wheel. It would be ridiculous to try to build one with 4-wheel drive. Not practical.

How was it dealing with Caroselli Design?

It was an excellent experience with Henry. He's very personable, very helpful, and takes the time to talk to you any time you want to call him. Because I live locally in San Pedro, he was able to pick the kit up, and drop it off at my house, which was quite nice. Dropped the kit off and saved me a trip up there with the trailer. He's quite helpful. It was a pleasure to deal with Henry. He's professional and eager to help. A lot of people sell kits, but you try to get a hold of them again and you can't do that. That's not the way it is with Henry.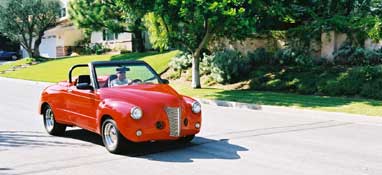 He's proud of his car.

I know that. He's got kind of an open-door policy. I go up there occasionally and talk to him, look at the things, we discuss things. Nice to have him this close when I had a couple of.... before I cut the thing, I wanted to talk to him before I made some mistakes. Once you make a mistake, it's pretty hard to correct it. When I went up to the car show, I made a little information sheet on the car -- where the kit came from and who to contact. I'd recommend him to a good friend -- you don't do that if you don't think much of the guy.

So tell me about the reactions to your car at the show?

There was a lot of interest in the car. Somebody said, "Oh, look! Somebody put an S10 dash in this car!"

It's the other way around.

Well, it is, in a sense.

You put the car around the S10.

You go to places and they're looking at it. There's not too many around Southern California.

Have you seen many?

No, I've never seen one. I've talked to very few people who actually knew what they were. As a matter of fact, just two. Some of them were car enthusiasts. One guy just happened to have seen an ad in one of the rod magazines and was interested in it. He's on line, so... But it sure generates a lot of interest, and for the money... I mean, if you do a ground-up type of... You build a roadster, you have to buy everything -- the frame, everything -- you'll end up with $50,000 or $60,000 in the car. If you want a fun rod and do the same thing and have just as much fun driving it and have it a little more reliable and smog legal and so on, the Rodster's the way to go.

You like the fact that it's user friendly.

And in California, with the smog restrictions, you have to register, but prior to '73 and earlier, you don't have to smog them. Anything you buy after '73, you're going to have to smog it. And that's a big consideration when you decide to build an automobile -- is it smog legal or can I make it smog legal?

Tell me about the handling and ride.

I found that the handling was improved quite a bit. It's very sensitive to the road. It handles very well through the corners with the dropped front end, very stable. Put some Monroe Sensatrac shocks on it, put a good set of shocks on it. It's a little bouncy because it's so light in the back You can sense every little bump in the road because it's sensitive to the bumps and things because it's so light. You drop 500 pounds off there -- there isn't any weight back there. I talked to Henry about it -- some of them pull leaves out of the springs and do some other things to soften up the suspension. I might do that. Different ways you can do it. Probably pull a leaf out of it -- the mid-leaf -- and it'll soften it up some. You want a taut suspension for handling, but you want to take it 600 to 700 miles on a trip and feel that bump all of a sudden, kind of rock and roll...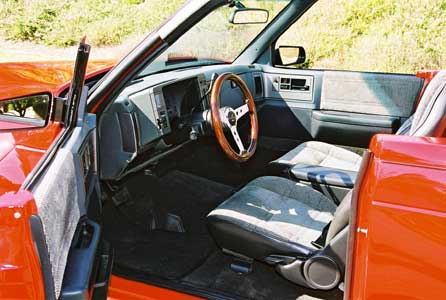 How's the comfort inside the car?

That depends on how much you want to spend on the interior, or on the seats. I haven't done anything to the seats as far as putting new cushions on them. Stock seats are probably broken down... you need a good cushion. Probably ought to have the buckets completely redone with a good cushion on them and be very, very comfortable. You know, with the original 112,000 on them, the cushion's are broken down. But it's still comfortable. It's not bad. Of course, that's something I haven't done yet that I'm planning on doing, at least on the driver's side.

Who cares about the passenger?

The passenger can just hang out.

How much do you drive it?

It's an everyday driver if I want to, but I've got a '99 Tahoe that I drive around that I use for my primary vehicle, because I don't have to drive to work anymore. But I take it out a couple of times a month, here and there. I plan on going to other car shows and the Willow Springs races and things like that, and get it out and use it. I'll probably at least put more than 2,000 miles a year on it. But if you wanted to drive to work every day, you could, because it's economical and mechanically sound. You've got an S10 Blazer with a fiberglass body on it. Everything else is the same -- cruise control, 4.3, and automatic -- so it's comfortable to drive.

Parts are available...

Parts are available, cheap. It's something that, let's say, a rod enthusiast would love to own. It's so economical to actually build and to drive afterward, because it's not a hotrod. You don't have to buy any special gas for it -- octane boost -- you don't have to do any of that. You just drive it. Pump gas -- 87 octane, any place you want. I wouldn't be afraid to take it anywhere. I was going to drive it to Texas and visit my friend, I just don't want to mess up the paint job.

Yeah, getting it sandblasted across the desert, I don't know...

Yeah, you'd probably need a bra on the front of it or something. I wouldn't feel comfortable. I plan on taking it to Palm Springs to the next car show and auction they're going to have there. Vegas has races and car shows. I'll just start using it for that type of thing. And cruising. Say you wanted to take a cruise some place -- "Yeah, it's a nice night" -- you just jump in and go.

Sounds like you're having fun with it.

Yeah, it's an awful lot of work -- I didn't have any help -- but it's a good feeling of satisfaction when you're done with it.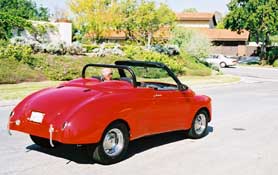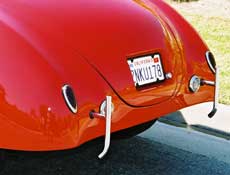 Did you have fun doing it?

Oh, yeah. I had a lot of fun with it. I enjoyed it. Taking out those lower control arms wasn't much fun. You don't want to hear some of the stuff I yelled out -- I guess that's par for the course. I like being able to use all of the tools that I acquired through the years again, rather than sitting here taking up space.

So, what's the best thing about the Rodster?

The flexibility of it. It's economical to drive, it's fun, handles well. It handles great and the performance is not bad at all, as far as the acceleration is concerned. Overall, it's a fun car to drive. It's a sports car, because now you have a roadster. You look at it and go, "Oh, that's one of those new watchacallits or something," and I say, "No, that's not what it is." I saw a little excerpt on Channel 4 news with Ken Schocknek and I saw just the back of the car going down a driveway, and that's all I saw, so I called the station and talked to Shocknek, got the information on where Henry's shop was and I went over and saw his car and decided to build one. But if I had never seen that program, I wouldn't have even known about the car. I liked the way it looked from the back when it went out and then he said, "Hey, you can build a roadster for $15,000 or less," and I go, "I'm going to check that out. Yeah, I think I can do that. When, and how much, and when can you deliver?" It took me about three months to find a donor car. Because they were selling like hotcakes. Every time I called somebody, "Oh, it's sold. It's sold." So I don't know what the deal is about those 2-wheel drive S10's. They were a dime a dozen. Now, everybody wants them for some reason, I don't know what it is.

Maybe they're all building Rodsters.

No, they're not doing that. It must be a nice little car for the kids to go to school in. Everyone wants 4-wheel drives and I figured 2-wheel drives, nobody wants them. But I found just the opposite. I went to all different kinds of car auctions. I have a friend who has this Bernie's Automotive Toyota in Wilmington that has a resale license, so he took me to some auctions and I was just specifically looking for an S10. So I went to all different kinds of auctions and looked around in the papers. I went down on Thursday -- that's when the Truck Trader comes out -- and I stacked them up and went through them real quick and made some calls -- I did that for about three months until I found the one in Azusa. Boom! I smoked it over there and I said, "I'll take it. Here's a hundred dollars. I'll be back tomorrow." And that's how I ended up with the car.

So you really had to work at it.

Yeah, to find the right car. If you want a 4.3. You just don't pick up just any piece of junk. It takes a while to find it. Takes some time and effort to find the right donor car. Once you've found the right car you're comfortable with, then the rest is history. You just have to do what you have to do to the car and when you get ready for the kit, then you order it from Henry... But you have an awful lot to do before you're even in the position to start... Before you take delivery on the kit. What I did, I got the lowering kit from Henry and I lowered it -- got just the lowering kit, not the complete kit. And I lowered it and did all the cutting and everything that I needed to do, and I called him and said, "I'm ready," so when I took delivery on the kit, I was almost ready to start putting it together. So, there was no hurry about the kit. It's going to take you a while to get the car mechanically sound, then you do all the other things, and then I went down and got the lock track put in it to make it hook up at stops. Did all that before I ordered the kit. So you can drive it, actually use it for transportation while you're getting it ready to chop up. I had people wanting to buy it every time I stopped at the service station. "Want to sell your Blazer?" That's before I cut it up.

Henry says you put it together in your backyard?

Well, my garage. I have a two-car garage, and I had a slab out in the back with a cover over it. You can't leave it out. There's no way it's even practical to start building that thing without a garage or carport or something to secure it.

I talked to Henry a couple of days ago -- asked what he thought, if I wanted to build this one and then build another one. I guess to the right person, it's probably worth $22,000. I've got $17,000 in this, okay, so I build a similar vehicle, same quality. I have $17,000 in it, then I'd have to get, you figure, 120 hours and $50 an hour, you're talking $6,000 to put it together. It's a lot of work and a lot of time, so it's about $5,000 or $6,000 for somebody to build one for you, if you buy the car. So, they're probably worth, depends on the buyer, but the right party who'd rather than build one, just find one that's just complete and nice, probably give you $25,000 for it. I guess. It's about what I think it's worth.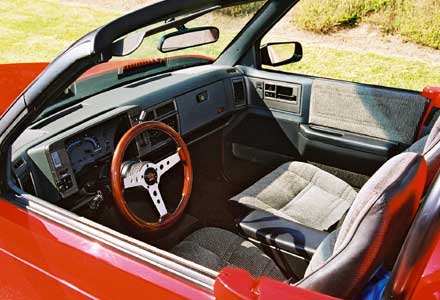 There are some people building them for other customers, but I don't know what they're charging. It would be interesting to find out.

You know some people building them for other people?

Yeah. There are people who've gone into that business.

Not in Southern California, though.

No. Other parts of the country.

Henry was telling me about this guy who does that for people. I don't know where he is. That he gets about five, six grand for labor to put one together.

He quit his job and went into this fulltime.

I guess if you advertise to the right people and they want them... Henry was telling me about a guy that did that and had a guy build it for him and he loves it, drives it every day. Him and his wife take it out all the time and he didn't hesitate at all about plunking down whatever it cost. Whatever the market would bear, he paid it and was happy to get it. I wouldn't want to do it for a living because it's too much work.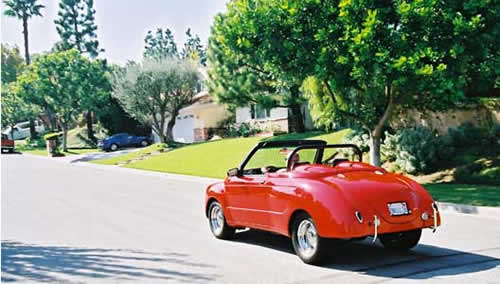 You're retired. Enjoy yourself.

Yeah. I thought I could build another one and sell this one, build another one, to be honest with you. Because I had a lot of fun. I'd do things a little bit different, but not much. I might do it, I don't know. Somebody that likes cars and is mechanically inclined would have a ball building this car.

Sounds like you did.