What are Rodster® owners saying about the Rodster® Street Rod?

A Few Words With JIM DRUKER

Larchmont, New York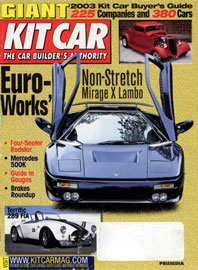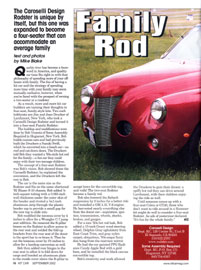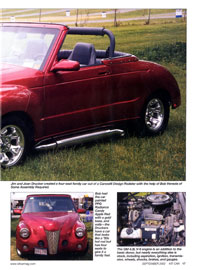 Read about Jim Druker's Rodster in Kit Car Magazine.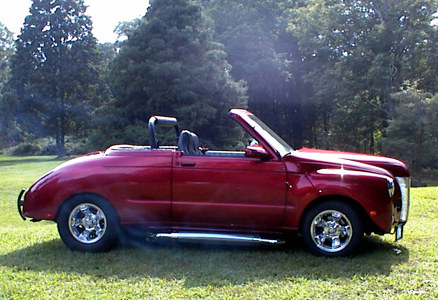 Jim's Rodster was built by Bob Venezia.
How did you hear about the Rodster?

Through Bob Venezia, whom you already spoken with. I was actually looking around for another car. I was looking at Chevy Corvairs, or Karmann Ghias, some other stuff. Then Bob told me about seeing something in Kit Car magazine about this guy in California who's making really high quality kits to go over Chevy S10 Blazers. So he got me the literature and I looked at it and we talked and then we started calling Henry and spoke to him a lot. It sounded great. I gave him the green light and we went ahead with the project.

What attracted you to the Rodster?

The simplicity of it. Just, you know, the Chevy S10 Blazer. That was one of the things I wanted -- a car where there were engine problems, transmission problems or whatever, I could just go to a dealer. I wouldn't have to wait for things to come from foreign countries or other states or specialists and that was good about it. The looks of it really attracted me. And the cost of the project seemed really reasonable.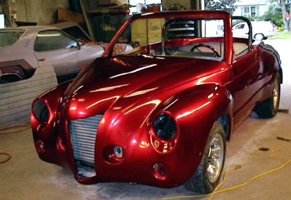 A work-in-progress shot of the Rodster in the paint shop as it turns into a beautiful candy-apple metallic red.

I hear you're known for you exotic cars.

Yeah, I like different kinds of cars. Bob made a beach buggy for us out of a Suzuki Swift. I've gotten a SAAB souped up and custom bodied and everything. I like driving. I like cars. The Rodster would be something I could drive around every day. Not something to just take out for a drive on Sundays for an hour.

Do you drive it every day?

Bob Venezia's having a convertible top put on it now, but I was using it to commute every day and enjoying it. Next year, we're going to take it down to Florida and probably keep it at our Florida house.

It seems like a good Florida cruising type of car, California kind of car.

Yep. As a matter of fact, that's what we're looking for because our beach buggy doesn't have air conditioning and has a top that is very, very difficult to put on. So the Rodster also fit those requirements of air conditioning and a top that's easy to handle.

What are the reactions when you're driving it on your commute every day?

I was just telling my son about it. Every time I stop at a light, you see out of the corner of your eye people rolling down their windows, you know, yelling. They want to ask you what it is and tell you it's beautiful. Truck drivers hit the air horns and wave. You go by schools and the kids all start yelling, "Cool car! Wow!" And even driving on the road, people will pull up next to you and honk, roll down the window and ask you about it. People love it. Absolutely just love it.

That must be fun for you.

It is, but sometimes you just want to listen to the radio or something. I pull up at a light and I've gotten to the point where I try to avoid making eye contact with people. I just don't want to answer the questions. A few weeks ago, we had it. My wife was going into a store and I was sitting in the car waiting for her. People kept coming over and asking about it. I finally got out of the Rodster and just walked down to the corner so I wouldn't have to answer any more questions. Whenever I come out of a place, there's a crowd around it and again, you've got to answer questions. It's funny, I said to my wife, "This must be how movie stars get after a while, where you just kind of want to be left alone and people just keep hammering at you, "Oh, it's beautiful. It's... wow!" You really do. It's nice to have people appreciate it, but they're all over you.

How does your family like it?

They love it. My kid when he first saw it said, "This is the coolest car in the world." They all love it.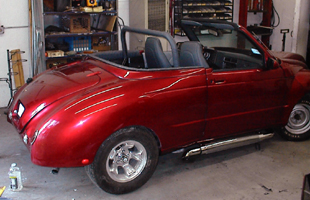 In a traditional touch, cool side pipes were added.
I hear you're a real driver. Bob Venezia was telling me you like to go fast. How does the Rodster handle?

It handles better than I thought. It handles better than a Blazer would. I don't have any problem with it on cornering, but I'm not going to drive it the way I would drive a SAAB or a BMW or a Porsche. I like driving it. It's quick; very quick 0 to 50, or 0 to 60. But I don't run it hard. That particular car seems to be happiest between 60 and 70 miles an hour. It's running 2200 to 2500 rpms and it's just purring. I like driving it on the road with the top off and some music blaring and feeling the breeze.

Where do you commute to?

I commute to Long Island, New York from Westchester every day. It's a 26 mile commute and I do it mostly 60 miles an hour. It's almost all highway driving.

How was it dealing with Henry and Caroselli Design?

Henry was a pleasure. I know Bob did most of the dealings with him, although I spoke to him from time to time. Whenever you needed something, he came through. I think Bob actually gave him some design improvement tips that Henry was very appreciative of. I had absolutely no complaints and I know Bob didn't either.

You had no interest in putting the car together yourself?

No, that's not my forté. Although Bob wants to do one with me sometime in the future. He spent a good year working on this. A big part of it was the standard Rodster package is a two-seater and we wanted a four-seater. It took Bob a long time to figure out how to do it, work it out. And now we have a four-seater Rodster that doesn't give away anything in the looks department.

And you wanted to put in a manual transmission as well?

That was a must. I don't like driving automatic transmissions.

That's the mark of a real driver, somebody who prefers manual.

Uh huh. I want to have control over the car and I enjoy shifting. In traffic, I don't mind it.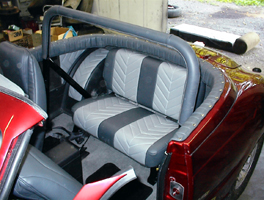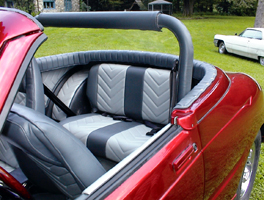 Here are a couple of views of the special custom upholstered rear seat (out of a CJ-5/7).

What kind of cars have you had?

I had a turbo Porsche for awhile. I've had five SAABS, all turbos. We've got that beach buggy that I told you about. A 5-Series BMW. And that's pretty much it. When the Rodster goes to Florida, I'm probably going to get an M3 convertible to use on my commute up here.

Those are serious cars. How much do you have invested in the Rodster now?

Probably about $20,000 - $25,000 including the purchase of the donor car and everything else that was done.

How about the Rodster's bang for the buck?

When people ask me what it runs, they're shocked. I've had a couple of inquiries about it. I've given people Bob's phone number and I gave one friend of mine, who's seriously considering it, a brochure. To me, for what you're getting, just in terms of the enjoyment and the uniqueness of the car and everything, it's tons of bang for the buck.

Would you recommend the Rodster to other people?

Absolutely.

What do you think is the best thing about it?

The looks. And I think it's just a kick driving it, every time I get into it. In a way, it's going back in time a little bit, just because of the looks of it. I get out of my car when I get to my office and I'll just stand and look at it sometimes. It's just so great looking. He did an unbelievable job on the paint, too. The color is part of it. It's just beautiful. It's Cherry Red with gold underneath it that kind of changes a little bit. It's not wild looking, but it changes a little bit in the light. But that's it. Bob had a '61 Corvette that he loaned me a few years ago for a month and it's the same feeling. Every time I'd get into that car, it was such a pleasure and so much fun to drive it -- I get the same kick with the Rodster.

Anything else you want to say about it?

If anybody thinking about it getting one gives me a call, I'd be glad to talk to them. As you can probably tell, I'm just in love with it.

Another custom touch is the special upholstered trunk.