What are Rodster® owners saying about the Rodster® Street Rod?

A Few Words With RAY and BARRY FLEMING

Mulvane, Kansas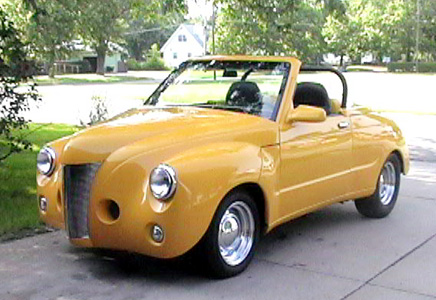 Early in the year of 2000, my oldest son Greg, and I were searching the internet for a kit car. I was originally looking to build a '34 Ford replica. I found out how expensive it was going to be and started looking for something more reasonable. Then we found the Rodster. A short while after that, in March of last year Greg passed away. He was suffering from Duschenne Muscular Dystrophy.

After a while I needed something to occupy my time and take my mind off what had happened. Greg loved old cars as I do. My youngest son Barry and I decided to build a Rodster and dedicate it to Greg's memory.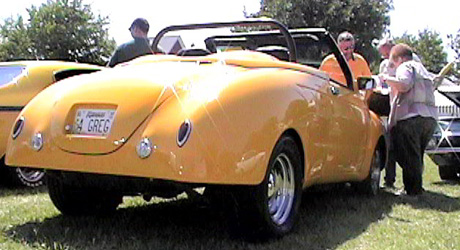 When we started searching for a donor vehicle, my wife thought I was nuts when I would call about a Blazer being advertised for sale. The owner would always offer the usual information, miles, color, condition of the tires etc. After they gave me all this information, I would ask what kind of shape the doors were in, that's when my wife would fall off her chair. I didn't care what kind of motor it had, or what color it was or even if the tires were bald. All of those things were going to be changed. Anyway, she got a good laugh from it.

Our donor vehicle is a 1985 S10 Blazer. We found it about 25 miles from where we live. It cost us only $750. The motor was running well. Good enough to get us home any way. Amazingly, we wound up selling about $500 worth of parts from it.

We immediately started removing the hood and front fenders from it, and then the engine. We found a small-block 350 had it bored 30 over and added a high-lift cam and flat-top pistons. It has a 4-barrel Holley on top with Hedman headers. We backed it up with a 350 turbo transmission.

We cut the body down and gutted the interior. After we had the top removed and the back cut down, the tail section was easy to mount and fit perfectly. The directions were easy to follow and made the process go smoothly.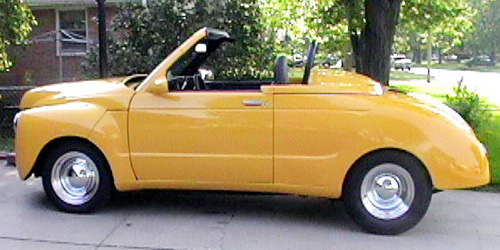 My wife got excited when we had the tail section mounted in place and she could see what it was going to look like. I think she was thinking the pictures on the internet were nice but I don't exactly know what it will look like in person.

The project was an evening-and-weekend thing like most everybody who builds the Rodster. I really don't know how many hours we have in it. We obviously went beyond just the Kit, with the motor swap and interior change. The interior was red in color originally. We changed it to black and put new black door panels and black leather seats in after the paint was complete.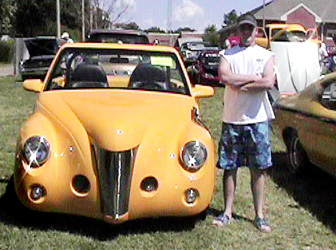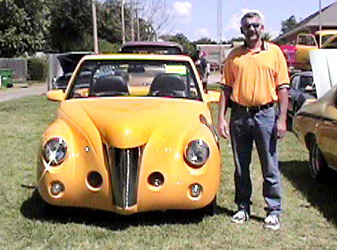 We have had it on the road and it has certainly gotten the attention of a lot of people. We have taken it to two car shows this summer and the response has been great. There were always people around the car and looking at the pictures we had of the build-up and trying to discover what was still the GM Blazer. My son and I had a ball building the car and it is fun watching the people looking at it while going down the road. Our car was featured on a local car-enthusiast television show because the car was so different from anything else being shown, and it was the first Rodster around the Wichita, Kansas area. Something different is what we were after.

The total amount of money spent putting the Rodster together with the interior, engine, transmission, and paint is right at $15,000. This was less than 1/2 the amount I would have spent on most of the other street rods. And we still would have had a car that looks like thousands of others.

The Rodster is fun to drive and handles great on the highway. We plan to enter it into several more shows through the remainder of the summer and into the fall. I had a couple of people say they wanted to be the first one in the area to build a Rodster, but they didn't get around to starting... "Ya snooze Ya lose."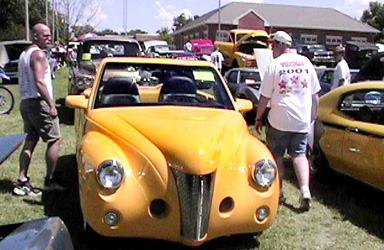 You had compliments on the quality of the fiberglass from the Body Shop that painted our Rodster. They had just finished a Cobra Kit car that they reported was not near the quality of the Rodster. That made their job easier. All the while it was in their shop they had people looking at it and trying to figure out what it was.

We are very pleased with the finished product and we have a fun car that Greg would have been grinning from ear to ear while cruising in.

You have a good product and it is everything your website says it is. Keep up the good work.

Ray and Barry Fleming