What are Rodster® owners saying about the Rodster® Street Rod?

A Few Words With MIKE GANNAWAY

Austin, Texas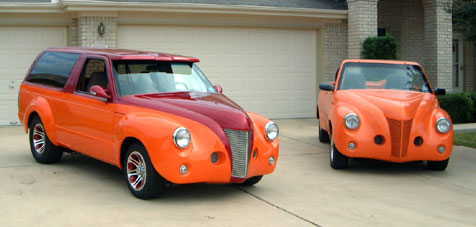 Michael Gannaway won three trophies at the "32nd Annual Custom Car and Hot Rod Show" (Austin, TX, Jan. 2006). He has two Rodster Street Rods, an Open Roadster and a Sedan Delivery. His beautiful Roadster won the coveted award for Street Achievement Design –– an award judged against every one of the 300+ street-legal cars at the show. Congratulations Mike!

CLICK HERE for more award info and photos.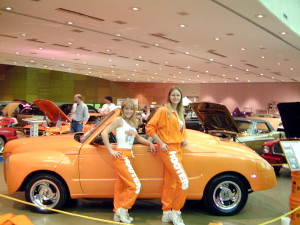 First Place at the Austin Car Show!
Dear Henry,
Here is a picture at the show with 2 of the Hooter Girls, the called the car 'The Hooter's Car' because it matched their outfits.
I would have sent a picture of the first place award, but it was made of clear lucite and didn't photograph well. We won first place for 'Hand Built Custom'.
Thanks,
Michael Gannaway
You had Jim Crabtree build your car?

Yes, Jim Crabtree built my car. He made some special modifications, too, that kind of stand out. Jim's very talented. I had gone to Henry's website and read the testimonials of, basically, everybody that was on there just about this time last year. And I saw that Jim Crabtree was there and he built cars, and I saw his car, and I said, "Would you make me a car?" and he said, "Sure." And then I called Henry and got his opinion of Jim, and he said, "Well, Jim is very good," and that he thought that would be a very good idea. I said, "Okay, what do I need to do?" and he said, "You've got to go find a donor car." So I said, "Not a problem, I can do that." Basically, in November of last year, 1999, I found the donor car, took it to Jim and worked with Henry about ordering the Super Deluxe Rodster kit, and took it to Jim in January and he gave it back to me the first week of April.

Good turn-around.

It was very quick. I asked for that and everybody jumped on the bandwagon. But one thing that's unique about my Rodster is that it's the first one with a painted grill. All the other Rodsters have chrome grills and I didn't want that, I wanted a painted grill. Of course, I think that each one of us who own one of these cars, you get your own special color. I had him make a paint for me. It's painted Tangerine Pearl and they painted the grill. I think after Henry saw it, he told me that they were considering real closely that they were going to offer the grill in paintable form, because they had to get one from the factory that was paintable for me. I have the only one that I know of that has a painted grill and it's Tangerine Pearl and it really stands out in Texas, where the colors of the local university are bright orange! University of Texas. Everybody thinks that I go there, but, I'm this old geezer...

Did you go there?

No, but I am from Texas and I retired and moved here to Austin. Actually, the Rodster was my retirement gift to me for working hard. But anyway, what would you like to know about the car besides... I think it's the best thing you can drive. It's very maintainable because -- from the water pump to the gas tank -- it's Chevy Blazer. So, if I want to work on it, great, I can find the parts anywhere. If I don't want to work on it, I take it to the Chevrolet dealer, and they get a kick out of it. It's fun to drive. I have the 4.3 liter V6. I get 28 miles to the gallon on the highway. I have every option they made on the car: electric windows, electric locks, power steering, cruise control, air conditioning, the works.

What year was the Blazer?

It was a 1988. Had 170,000 miles on it and it's still going strong. I bought special wheels. I bought Progressive No. 69 wheels for it and I run Yokohama tires on it. Jim made me a special trunk on the inside. It's fabricated. It's carpeted, but the back will drop out, and then I have the trunk all the way to the seats. So it looks like it's a nice little trunk unless you want to carry your skis in it, and then the back folds down and you've got an elongated trunk to the backseat to about six feet long. It's very nice. They did that for me. I have an external gas cap which Jim Crabtree made for me. He also made it for one of his earlier customers. The standard Rodster, the gas filler cap is inside the trunk. So mine is on the outside of the car, which is what I wanted. We added a third brake light from a brand new 2000 Blazer, and we added electric mirrors to the car, instead of those wonderful chrome Blazer mirrors.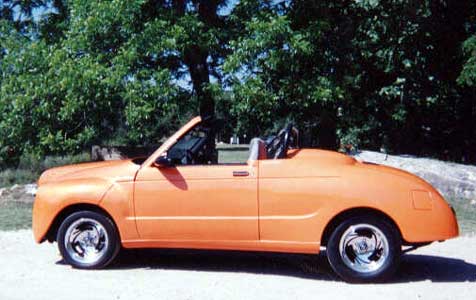 Mike Gannaway's Pearl Orange Rodster
I also hear you have a fared-in tonneau?

Yeah, I've got the Super Deluxe kit that has the tonneau cover and everything. I know there's a Rodster in Dallas that they just built and put a V8 in, but I'm the most popular car in the state. When you buy these things, you don't hide them in the garage. You drive them and you show them off. But, both Henry and Jim warned me that people would stop in front of me and try to run me down, and I thought they were kidding me, but when I picked the car up, they did that on the drive home. Seriously, I'll give you an example: we have a friend who belongs to the Austin Corvette Club and they have two hundred members here. And just recently, they took a trip to the Corvette Museum up in Bowling Green. And while they were up there for the 2000 convention, one of the local Austin Corvette members -- they were sitting around having dinner -- said, "Has anybody seen this guy in this bright orange convertible?" And our friend said, "Yeah, I know who it is. And it's not bright orange, it's Tangerine Pearl." So when the local Corvette club talks about you, I think... (laughs) I truly am the most popular car in the Austin area, for sure. I have it entered in a car show January 5th here in Austin. I haven't put it in any shows yet. I take it to a couple of shows and people want to know why this car is not in the show and I say, "Well, because it's a new toy." It's really a fun, popular car. I really like it with the top off. I have the Carson top. Of course, I have all the toys you can put on it. One of the features I have -- the most popular feature on the car -- I have a talking back-up light. It says, "Attention please, this car is backing up" and it repeats that as long as it's in reverse. It's a $13 item through J.C. Whitney. You just kind of plug it into your back-up light and it talks. It's the most popular thing you can put on one of these, one of these fun little toys. I advise every owner of a Rodster to get one of these from J.C. Whitney, and if they live next to the Mexican border, it comes in Spanish as well as English if you'd like. It's really a fun little car. I drive it every day. I put 7,000 miles on it since I got it in April.

Wow!

It'll go anywhere. Like I said, I get 28 miles to the gallon on the highway in it, and about 21, 22 in town. I bought it to drive every day, which I do. I tell everybody in town they can buy one and where to go to find one. I give them only one restriction -- they just can't paint it Tangerine Pearl. You want a certain amount of uniqueness. Since I'm the only one in the Austin area -- like I said, there's one in Dallas -- I don't know, there may be just the two of us in the entire state of Texas, and that's okay, too. If everybody bought one, that would be okay, too. Everybody stops me and asks me where they can get one. The interesting thing is if Henry didn't have this picture, my license plate tag in the rear says "Texas Truck." Blazers are all licensed as Texas trucks and it will always say "Texas Truck" and it looks like this '39 Ford rear end. So the police think that's a hoot. When I take it someplace and they have the security and they're walking around, they get behind it and look at it and look at me and say, "What is that?" I tell them it's an '88 Blazer and they say, "You're kidding me." Anyway, getting back to the car, I had the entire interior redone: new carpet, new seat covers, new door covers. That was all carpeted and stained two colors of gray, because a Blazer comes in five different colors of gray. So Jim redid all that, or had it done. He did half of it and an interior man did the rest. So it's carpeted and the trunk's carpeted, and like I said, I have the back panel in the trunk carpeted, but it just comes right out. I have special interior lights that Jim made for me for the interior, and put special lights in the trunk for me. I have all those little toys -- I have the wolf whistle and the ooga horn and the regular horn and the talking back-up. It really is a fun car. My wife and I -- you know, it's very hot in Texas, especially central Texas; we had 43 days at over 100 -- we take evening drives in it a couple of times a month, when it's not too hot. Sometimes we go once a week. But we take evening rides. We go at seven and come home at ten. Leave the top in the garage and we take all the back roads that are here in central Texas, through the hills, and end up at a Sonic Drive-In, which, you know, you still drive in there. We get a cold drink and then we come home. We do that quite a lot. And we have a lot of fun doing it. That's another benefit of the car, it's a fun car to take evening rides in.

That sounds great.

I highly recommend the kit and working with Henry, because he was very professional and any modifications I wanted -- like the grill -- he worked with me on that. And I can't say enough about Jim Crabtree. His ability... he's very, very good and very detailed and very accommodating. If somebody wants one of these made for them, I don't know who would be a better builder than Jim Crabtree.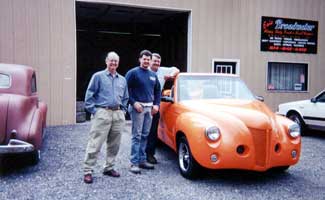 Mike Gannaway (the owner), Eric Broadwater (the painter), and Jim Crabtree (the builder).

How did that work, with him all the way in Maryland?

Well, I took the car to him in January. I drove it up there. I bought a roundtrip airplane ticket from Baltimore back to Austin and I drove the car up there. It's two hours from Baltimore where he lives in Cumberland, Maryland. Jim drove me back to the airport and put me on a plane. In fact, my wife and I did that. We drove up there and I left him the car in the dead of winter. It snowed six inches on us the day we gave him the car. We got on a plane, flew back, and I kept in touch with him and he gave me a completion date in early April and we flew back up there and Jim picked us up at the airport on Sunday. Then we were there for three days and we went over the car and all the options and how it worked -- how to take it apart, basically, the hood and how it came off if you needed to work on it. We stayed there for three days and then we left and drove it home. And we drove 1,600 miles in two days.

That's the easiest conversion story I've heard.

Jim was very accommodating. He did everything. If we needed a car, he leant us his car. He took very good care of us. I don't know if he do that for everybody, but I don't know why he'd single us out, because he builds cars other than the Rodsters. He has a Rodster, and as luck would have it, the weekend before we went to pick the car up, there was a local car show, so he put his car in it and he put our car in it, too. I have pictures of it in the car show. Just a local mall show, but it's kind of exciting before you even get your car, it's in the local mall. He took pictures of it sitting next to his, which is a different color and he put the other nose on his. He has both front ends -- the '39 Ford looking front end and the Cobra looking front end -- to show a contrast. That was very nice.

How did you find out about the Rodster?

I found out about the Rodster in KIT CAR magazine. I had been looking for a hotrod for about a year. I looked at a number of them, both in person throughout the state of Texas and the internet. I talked to a number of people selling their '38 Pontiacs or '40 Fords. The problem with all these cars is they came with a 25-page part list because hotrods have Mustang II front ends, Chevrolet drive trains, Dodge interiors, or Jaguar rear ends, so if you don't have a part list for all these parts, you can't maintain it. I get real frustrated with that aspect, so I was looking for alternatives and I saw the Rodster in KIT CAR magazine and I saw the web address and so when I got onto the web address, I saw the car. Saw that it fit on an S10 Blazer. It was logical that it would be something that I could drive. I wanted a daily driver, something I could drive for the next ten years and it would be maintainable. So that got me interested. I talked to Henry, I looked at the web page, and then I talked to Jim Crabtree. They basically reinforced what I thought to be true, that it was a very maintainable car, and something that looked good. I liked the '39 Ford look to it. And, like I said, it was something that I could drive every day, rain or shine. I just put the top on when it rains and if it's not raining, I just drive it without the top. It's a much more fun car without the top. It looks a lot better and visibility is much better. But, it is a foul weather car, too. It'll make it in the snow. I drove it in the snow. And here, we get a lot of rain and we get a lot of heat. When it's 112 outside, I put the top down and I run the air conditioner.

Highly civilized, isn't it?

Yeah. I am looking into getting a rag top made for it, but that's been real difficult because it doesn't have a subframe, so I'm working with some boat convertible top makers to see if we can't get a subframe made for a convertible top. That's my next project on this car, where I don't have to carry the hardtop around when I travel in it.

There are some other owners doing soft tops.

That's what I'm trying to do, because all the ragtop makers here say, "Yeah, we can build a ragtop," but they can't build the subframe. I got the name of a gentleman in South Carolina, but he's in the business. I think he has a garage. I haven't talked to him yet. Henry gave me his name and told me to give him a call. In the meantime, I've been checking out some local mechanics that work in the boat industry and they build subframes for boats. We'll get it done. These things are fun projects.

You mention that you are planning to work on the car. Are you a car guy?

Well, as a kid I built dragsters. Street dragsters in east Texas. We put a lot of horsepower in the '57 through '60 cars. (As far as the Rodster), I was going to Europe, number one. I wanted the car built in a short period of time. And two, I'm not very good with body work -- more mechanics, engines, drive trains, rear ends, that kind of stuff. So, I'm not afraid to work on it. I've been doing all the wiring for all these toys I've been putting on it, those kind of things. If it's something I want to do, I work on it. Like I said, if it's something I don't want to do... I lost a starter, but the starter I had on it was under warranty, so I took it back to Chevrolet and they replaced it for free, which is something that I'm not going to do anyway because it was under warranty. So yeah, I do work on them and I'll drive this one till the engine and transmission go and then I'll replace them. This is a nice engine and transmission on it. It has a 4.3 fuel injected engine in it. It's good horsepower for the... it's a lightweight car now -- takes 600 pounds out of it when you cut it up. The R700 transmission that's in it is a good transmission. It's got a good engine and drive train that already comes with the car. I think it's one of the reasons Henry picked the Blazer.

It's nice that you don't have to worry about finding parts.

I've built a lot of horsepower when I built cars, and that's all fine and dandy when you're 17, 18 years old. This engine gets 200 horsepower and it weighs 2,600 pounds. These guys who are putting these V8s in there, that's way too much power. You can't get it to the ground. The guy in Dallas, he's trying to get it to the ground, so he's got to tub it out in the back, you know, channel it. The first thing you have to do, you have to stop it! You can get it to go quick. It's a lot more work... I'm enjoying just driving it every day. Like today, it was raining -- we've been in a drought, we haven't had rain in so long -- so I just put the top on and drove it in the rain. It comes home, it's got little spots on it, so shoot, I guess I have to wash it. Truly, it's one of the most fun cars -- if not the most fun car -- I've ever owned. It has its place beyond the big horsepower dragsters days. I'm sure back in the '60s I wouldn't like this car, but now, it really is the best thing going on the road. There are other kit cars that take donor cars, but this one is a very straightforward application and all the mechanics that I know -- and there's two in town that have seen it and basically want to take it apart -- they really, really like the way it's built and the way it looks.

What do you think about the "bang for the buck?"

It's good. I bought the top of the line that Henry had and I think for the people who want somebody to build one, or if they have the talent to build one, that's the way to go. Top of the line, get a good paint job and you've got a quality product. The fiberglass work on it is very, very good. Both the hood and the trunk are built very well to take the punishment the hood and trunk should take. I mean, you're slamming them down, you're dropping the hood. You're going to do all that stuff and they don't show any weakness at all. They're very well made. I know Henry's now offering the front end and the lowering kits for the kid who has an S10 pickup truck, who only wants to lower it and put a nice nose on the thing. That's great; that opens up a lot more applications, so it'll fit on a 4-door Blazer. So, I think with all the options that the Rodster offers, it's a great product. I don't know of too many kits that offer the various options within the kit that the Rodster offers because you can go about five different price ranges, from just the nose and lowering kit, all the way up to the Super Deluxe model that I have with the Carson top and the tonneau cover. You can do whatever you want. I wanted the top of the line and I got the top of the line, and I got a quality builder and a tremendous paint job and the popularity of the car proves that. I couldn't be more pleased. It's a tremendous car. Fun, fun, fun to drive!

Great. How does it handle?

There's a lot of hills -- because we live around a lake -- here in Austin. It handles real well; it's lower to the ground now. Blazers aren't known for their comfortable ride. It rides a little bit like a Blazer that's been lowered, but it's much better than any of the hotrods I've driven over the last year -- they ride like pickup trucks.

You checked out other hotrods?

I drove a number of cars before deciding that these homemade built hotrods weren't for me. I knew what this was going to ride like basically when I got the Blazer because I drove it for two months to get all the kinks out of it and everything I wanted done to it prior to me taking it up to Maryland to Jim Crabtree. I had the tires and wheels put on it and I had a new exhaust system put on it. A real good radio with a cd player in it. So I drove it for two months, and then, it's a 1,600 mile trip to Jim Crabtree's from our house. It's not a bad ride and having the interior redone and having the seats rebuilt, they're just like new. The fabric is a heavy duty fabric we had to put on the seats because, basically, it's a convertible all the time. So it's out in the sunshine. For ninety percent of the time, I don't have a top on it when I'm out during the day. The carpet and interior guy, he understood what I wanted. Jim Crabtree was the middleman because I wasn't there. This was all done up at Jim's place. So they put the heavier fabric on the seats to help with the sunshine and the weather because it is a convertible.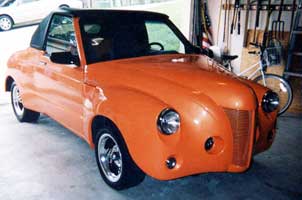 How much have you got invested in this?

With the car and the wheels and everything, about $18,000. I told Jim he needs to raise his rates. I couldn't find a comparative hotrod for that price that's street worthy. If you bought a $15,000 or $20,000 hotrod, if you didn't take it apart and basically check every piece, how would you know that it's safe on the road? This one, I went and bought a Blazer, I took it to the Chevrolet dealer to check it out, and then I drove it for two months. I took it to a brake specialist and he checked the brakes -- the brakes were fine. Chevrolet checked out everything else -- they said everything's fine. It wasn't leaking oil, wasn't leaking transmission fluid, it drove great, everything in it worked, so after two months of driving it and not having any problems with it, it was ready to be converted. And when you convert it, the only thing that's really different is the radiator. The front radiator is custom made to fit under the new hood. Everything else is the way it was when I delivered it to him. So I knew if I drove it up there and everything was fine, driving it home would be no problem. Like I said, when I drove it up, I got 22 miles to the gallon -- coming back, I got 28! It now weighed 600 pounds less. And it was much more aerodynamic. Because the old Blazer had a square front end and the new one has a nice rounded front end. I think the value for your money is great. Well worth it.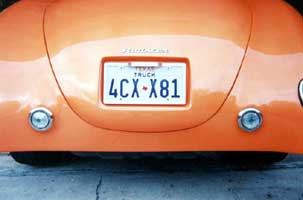 Mike's Texas plates still say "Truck."