What are Rodster® owners saying about the Rodster®?

A Few Words With GINNY CANNING (Coming soon...)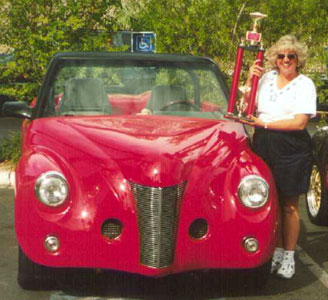 Ginny Canning talked Rod Decker into selling his "Rod's Red Rodster" Street Rod at the AHA Knott's Show in April, 2002. She's been a very enthusiastic owner, cruisin' all over Arizona with a big smile on her face – especially thrilled when she won the President's Trophy at the (multi-club) "Club Sandwich Show" in Laughlin, NV.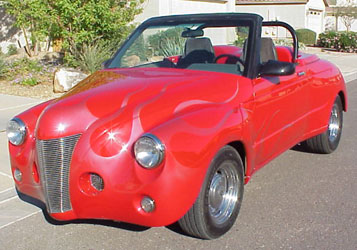 Ginny put a new Ghost Flame Job paint scheme on her new Rodster. She says, "Depending on the directionof the sun, it can be very subtle or very striking."

She's really happy with how it turned out - basically, she wanted to do something that "made it hers." Looks cool.
---