What are Rodster® owners saying about the Rodster® Street Rod?

A Few Words With JEFF RANKIN

Camarillo, California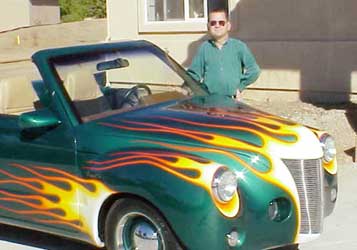 What do you do for a living?

Budget Analyst for the Department of the Navy. I've been working at Point Mugu for 22 years and currently, I'm a Lead Financial Analyst for a small group of junior Budget Analysts supporting a group of engineering and program managers.

Tell me about your car history – would you describe yourself as a car nut? What kinds of cars have you had?

I love cars. I'm a car nut all right. My first car was a 1966 Ford and after that, I got a 1976 Ford Van. Sold that in 1983 and got a 1983 S10 Blazer with the 2.8 V6. When the new 4.3 V6 came along in 1989, I bought another S10 Blazer as I didn't care for the poor power on that 2.8 V6. Then, as my folks started getting a little older, I bought a 1994 4-door S10 Blazer, for myself and my parents. The reason for buying the 4-door was to make it easier for either of my parents to sit in the back seat as it was a little hard for them to get into the back seat with the 2-door.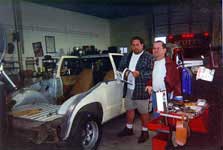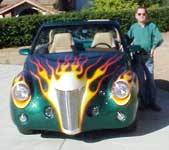 Are you involved in racing or car shows or other extracurricular car activities?

As for racing, I used to do a lot of slot car racing back in the late 60's when I was a young teenager. Also did some R/C racing during the early 90's. I'm not involved with any car shows, however, I might enter my Rodster in some car shows here in Ventura County.

How did you find out about the Rodster and what attracted you to it?

I saw an ad in AutoWeek about two years ago. At first, I didn't care for the styling of the hood. But after looking at the ads in the Rodster web page, I thought I'd drive down south to meet Henry and see first hand just what the Rodster looks like in person. At first, I had mixed thoughts about it, as that hood didn't look right. Well, after about two or three weeks of thinking about it, I made another trip down to see Henry, and he was working on his new hood style called the Super Deluxe, and boy, I knew right away that Henry had a winner that was going to sell really well.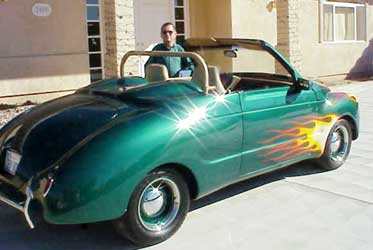 What do you think of the manual? Was it clear? Did you buy the manual before you got the kit? Did the manual play into your decision to buy the kit?

I bought the manual first and spent a great deal of time looking it over and thinking of better ways to build this Rodster. I also took this manual to a couple of 'rod shops to see if they could build it for me, as I'm unable to build it due to my handicap.

What is your handicap?

I have had Post-Polio since I was a baby and I have little use of my hands.

I've done a little research on post-polio -- how polio can flare up in survivors 30 years later.

I got Polio when I was three weeks old, back in 1953. I lost about 80% - 90% use of my arms and hands. As of today, I'm a little slower than I was when I was younger (which is true with most able bodies.)

What kinds of alterations have been made to your car so that you can drive?

I drive with my feet, as I have a custom foot operated steering wheel on the floor.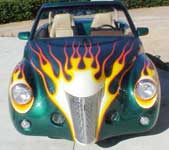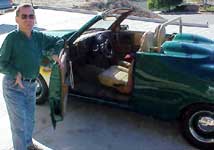 How does the steering wheel on the floor work?

I'm not a good technical writer, so you'll have to ask Henry if he can explain to you how the mechanics work. It's really easy, anybody can drive the way I do.

How did you manage to drive the slot cars and R/C cars when you were a kid?

As for driving slot cars and R/C, I had just enough use of my hands to get things done and for extra support I used my mouth and teeth (please don't tell my dentist).

Is your Rodster finished yet?

Yes, I need to take it back to the painter as it has a little overspray and he needs to redo the trunk.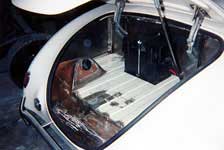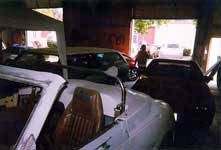 Were there any other custom touches you had done?

Yes, too many to list -- shaved door handles, custom bodywork, custom bumper, custom rollbar, etc…

How did you participate in the building process? Was it satisfying? Even fun?

I hired a hotrod shop to build the Rodster for me. At first, it was fun going to the shop each weekend to see what progress had been made, but then, it took much longer then I thought to build this car and I wasn't sure it was ever going to get completed. I feel that it took a month or two too long to get it completed.

Did it take so long because of the alterations that had to be made to accommodate your handicap, or because of the custom touches that you later said were too numerous to list? Or did it take more time because they had a lot of other cars in the shop and couldn't devote as much time to yours—anyone who's had their car worked on in a shop can relate to that.

No driving alterations were required as this had already been done back in 1989, when I first bought the car. It took more time for a number of reasons: a) a number of custom touches; b) other cars in the shop to work on; c) once we were ready for painting, we had to get an appointment with the painter which took another 3-5 weeks before he could start on it and he took a little more time than he said it would take; and d) because the painter took a little more time, we had to change to original appointment date with the upholster shop.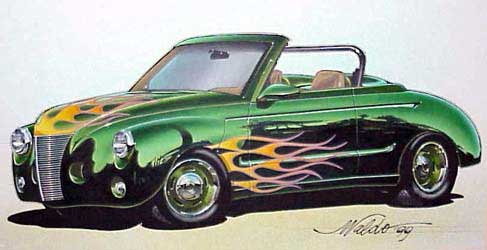 What year was your donor Chevy S10 Blazer? How many miles on it?

I bought my 2-wheel drive S10 Blazer new back in 1989 and I was thinking of selling it when it got to 100,000 miles. Well, it has 102,500 miles on it now, and when I saw that ad for the Rodster, I thought I'd just keep that old car and turn it into a Rodster.

What do you think about the overall quality of the kit itself? Did you receive your kit on time? Was the shipping okay?

Henry took the time to bring it himself to Ventura and to meet the guys at Scott's who would be building the Rodster for me. I think the kit was great. I ended up returning some items as we ended up doing some customizing here and there.

How was dealing with Caroselli Design? Was Henry responsive to your questions?

Henry is one of the nicest guys you can meet anywhere. I enjoyed talking to him and he really knows the car business. I'm looking forward to giving him a ride in my Rodster within the next couple of weeks.

Have you built other kits?

No.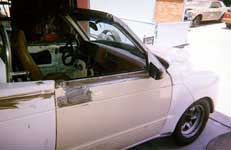 Would you recommend the Rodster, even if the builder weren't a mechanical whiz?

Yes, I think some day I'll order just the front parts (hood and quarter panels) and have that put into my 4-door S10 Blazer that I have and make it look like some type of old panel truck.

Do you think that the Rodster offers a good overall value?

Yes.

Do you think you got good bang for the buck?

Well, that's kind of hard to answer as I've spent too much on it.

How much money do you have invested in your Rodster?

The price of the kit was about right, but the cost of building this Rodster the way I did it was way too much!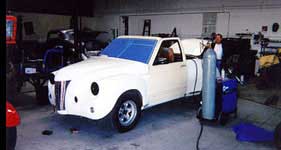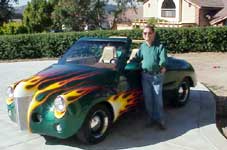 Is the inflated cost because of the extended labor needed for the custom touches? Or just sticker shock over what you had to pay the mechanics in general? That $40 an hour or so multiplies very quickly…

It was both the number of custom touches and the number of hours at $50 per hour to complete this project.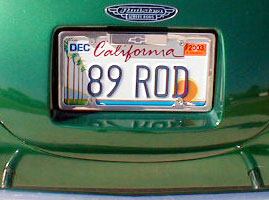 How much do you drive it? What kind of reactions have you gotten on the street?

Well, I've had it for three days now and I must have put a little over 100 miles on it just driving it around town. I'm planning on just driving it on nice sunny weekends and maybe one day every other month to work if the weather is nice. The reaction has been just great. Just today, one driver followed me to the parking lot and asked me too many questions. (I need training on being a good salesman.) Everybody seems to love the hood and that flame paint job on the hood.

What's the best thing about a Rodster?

It's a one of a kind type of car. Nobody on my street has one and I bet nobody in Camarillo has one either. The Rodster's got that American style with West Coast attitude and a universal appeal.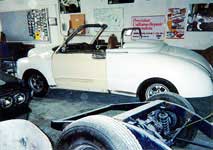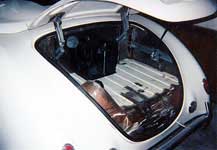 Are you having fun with your Rodster?

Yes, and I'm tired of talking and answering questions about what it is. But it's fun and I knew it was going to be like that once I started driving the Rodster.

Do you have anything else to say about the Rodster that I have neglected to ask?

I don't know how many Rodster kits have been sold to date, but I think it's time that somebody started a Rodster car club or Rodster newsletter.