What are owners saying about the Rodster® Street Rod?

A Few Words With Bill Flynn

Schofield, Wisconsin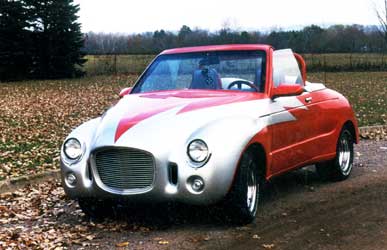 (Bill Flynn had just started building his Rodster when we recorded his first impressions here. We will follow up with him soon, now that he's completed his Rodster.)

How far along are you on your Rodster?

I just ordered some parts. They were incorrect, so I had to reorder them from Chevrolet. And I've got an airplane in my garage. I had to wait till I got that into storage, so I'm just barely getting started. I have ripped the back end apart, or, out of the vehicle, that was done. Beyond that, I really can't give you any information because that's all I've done. I'm waiting for the parts to come in so I can go to work on it.

Basically, you're in a holding pattern.

Yeah, just barely at the beginning of this whole process. Gosh, it's really going to be maybe a month or so before I have maybe something done on it. Henry says about 100 hours to do all the work. I'll probably go at it a little slower, I think it'll take a little longer.

Henry says you're building it with your grandson?

He said he wanted to help. I won't need that much help… just getting the body onto the car. But as soon as I get into that, I'm sure he'll be over here.

How old is your grandson?

He is now 21.

He's into cars?

Yeah, he has an old car. But he's mostly into stock car racing. That's what he likes. He's an avid fan.
What's your car history?

Actually, I've been into airplanes for last 25 years. I've always had a bug for a little roadster, something like that. So when I spied that article, that first article Henry had in Kit Car Magazine, I sent a letter to him and got going that way. I've had the kit for more than a year, but I couldn't get the airplane out. I was trying to sell that thing and I couldn't get it out of here, so that's held everything up. Also, in this country, trying to find an S10 Blazer, 2-wheel drive that isn't all rusty is almost impossible. I ended up going out to Medford, Oregon to get a Blazer.

All the way from Wisconsin?

Yes, Ma'am. I flew out there in May, early June, I guess. Flew out there, looked it over, bought it and drove it back home. And there's no bit of rust on this car. Anything coming from out of your part of the country is rust-free. Here in Wisconsin in the winter, they put some kind of salt solution on the roads that eats up the metal.

Did you get a good deal on the car?

I think I paid a little premium for it, but I was getting anxious to get going. I didn't want to wait any longer.

What year is the car?

1989.

What's the mileage?

140,000. I'll have to do some engine work to it. Or have it done. I'm not an expert at that point.

What kind of engine?

4.3 V-6.

What about your airplane? Henry says you build kit airplanes.

I build them from scratch. I don't like to build kit airplanes. I was on my third one and decided I had enough of flying. Had to get rid of some of my toys at my age, so the airplane has got to go.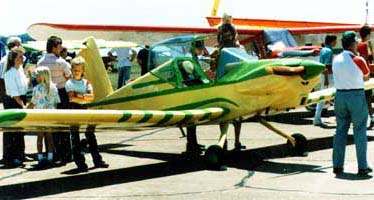 Did you fly very much?

I used to. I used to fly my homebuilts a lot.

That's a lot of faith in yourself. Driving a homebuilt car is one thing, flying a homebuilt plane is another.

It's a little different. But I made up my mind I spent all those years building airplanes, I wasn't going to let somebody else have the pleasure of first flight.

What was that like?

A little hairy, because you don't know if it's really going to fly or how it's going to handle, or how it's going to land. You don't know if maybe the engine's going to quit when you get off the ground. But I'm still here.

That must have been a thrill.

Oh, yes.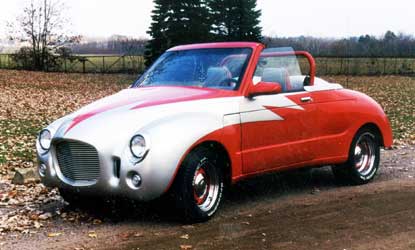 Let's get back to the Rodster. Henry says you're already working on paint schemes.

I've been working on paint schemes for quite a while, because, like I said I couldn't do anything on the car because I didn't have the car yet. So I've been working on paint schemes and getting that all lined up. Got my wheels picked out and tires and everything. Not purchased yet, but I know what I'm going to use.

Since you haven't built it, can I ask you a couple of questions about the quality of the kit itself?

Oh yeah, it was in great shape. I mean, the carton and everything, the shipping crate was in good shape. It held together real well. There wasn't any damage or anything. As far as the fiberglass, I'm not an expert in that either, but everything really looks nice on it. A couple of guys looked at it and said it really is nice fiberglass, the workmanship and everything.

How about the assembly manual?

That was great! That to me is the bible that makes it easy to build this car. If you don't have that… the same is true in airplanes. If you get a good manual with your airplane plan, it really makes a big difference. Henry sends those out ahead of time if you want them. To me, that sold it for me when I had that manual from Henry. I was sold on what he had down there and what I knew I could do. Even a person who's never built anything, I'm sure, could go into that manual and follow step-by-step and not have a problem.

So you got the manual before the ordering the kit?

Um hm. Took a look at it to see just what I was getting in to.

Did you get the kit on time?

Oh, yes. Definitely.

How about dealing with Caroselli Design? Henry's responsiveness if you had questions…

I haven't had too much correspondence with him. I did drive down to Springfield, Illinois in 1997, when I first got wind of this car, because he was at a car show down there. That's where I met Henry and had a ride in the car and sat in it and looked it all over and everything. Henry is a real fine gentleman. I'm hoping he's going to have a Rodster rally someday so I can go to that. As long as it's not way out in California. But I wouldn't mind driving out there, either.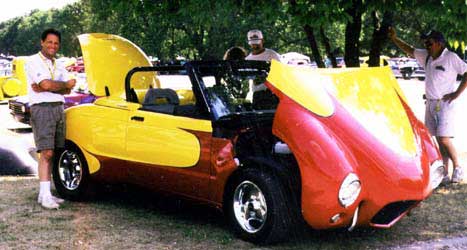 Bill Flynn was sold after his first encounter with Henry Caroselli and an actual Rodster®.
Anything more about the car?

Not at this point. I think when I get into putting that car together, maybe I'll have a little more knowledge and information I can pass on to you.

Okay. I'll call you back in a month or so.

With airplanes, if you're building a certain model airplane, you can go to the designer or person who puts out the plans and say, "Hey, anybody in my area within, say, 200 miles that's building the same airplane, maybe we can get together and say, "How did you do this, how did you do that?" My first airplane was that way, and there was this fellow 45 miles away from me that was building the same airplane and he was about a year ahead of me because he had started earlier. Every time I had to make a business trip down that way, if I had a question, I'd stop in and see him and he'd show me what he did and that would kind of help me along.

Once we get these things up on the Web, you'll be able to check that out.

Well, there might be something for somebody all over the country, whoever might be building one. If they're stuck on something or need some help. It's done in aircraft, so it's something that might work for Rodsters, too.

By the way, what is your business?

I'm retired. I'm an old guy. I was a manager for a small acoustical contractor in my area.

To be continued…