The Rodster Street Rods excel on Power Tour 2001.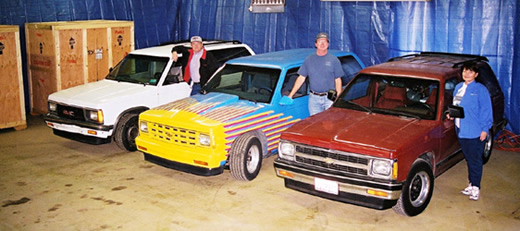 Remember these folks? In one week, they took these three Blazers and turned them into the three Rodsters seen below. CLICK HERE for the story.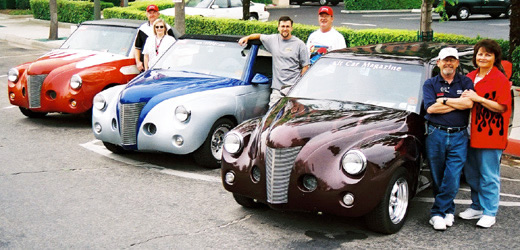 So what do you do with three new Rodsters? Take them on the HOT ROD magazine's Power Tour 2001.



Mark Wiley called us at Caroselli Design with the idea to do a bunch of Rodsters at one time. His idea was to have the owners come together in sort of a "barn-raising" event, and build them all in one week (just the conversions to Rodsters-the paint jobs could follow later), and then take them all on the 2500-mile HOT ROD Power Tour 2001.

He shopped the idea to Jim Youngs, editor of KIT CAR magazine, as a possible cover story. Jim felt we needed to do at least 3 to make the story interesting. Mark was ready to do one. He hooked up with Ray Yauk of Buffalo, OK to do another. Meanwhile, Jim was talking with his wife, Carolyn, over dinner one night about the project and she offered that a Rodster Sedan Delivery would be a great "attention-getter" for her real-estate business.

Bingo, we had three.

Ray offered space in his shop (Dry Fabrication) in Buffalo, OK for the one-week build-up and we all rendezvoused there to start the project on Saturday, January 27, 2001. Check out our story on the Three Rodster Project and http://www.trirodster.com for coverage of this build-up.

The build-up was a blast. Henry Caroselli joined them for a couple of days to assist and give advice. Carolyn's Rodster was finished early, as it was a Sedan Delivery, and they cruised back to Colorado on Friday, February 2, 2001.

Ray's was completed on schedule, even with the complication of modifying the late-model ABS unit unique to his '94-model donor. Mark had to leave for a few days in the middle of the project; and that, plus some mechanical problems with the donor vehicle required him to come back later, with his son Kent, for a few days to finish up. All in all, it was amazing to transform the three modern production vehicles into Street Rods in such short order (FYI: usual customer build time is a more leisurely 100-120 hours spaced over 2-3 months of nights/weekends).

It is a testament to the simplicity of the Rodster conversion kit to have finished so easily and quickly.

The HOT ROD magazine Power Tour 2001 kicked off in the Detroit area on May 3, 2001 and all three Rodsters were there ready to go. They then comfortably traveled all 2500 miles of the tour. Readers followed along with their day-to-day progress at their website (click here).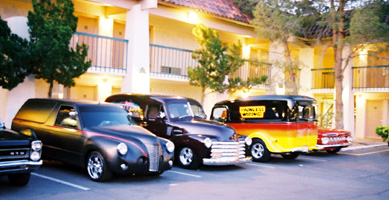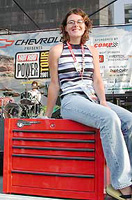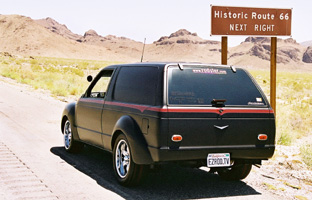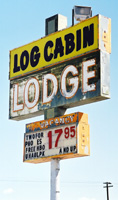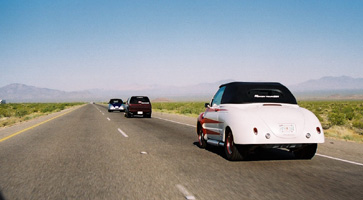 Fun was had by all, and the only minor problem was a quick-fix to an alternator that packed it up. The tour shadowed the old Route 66 (celebrating its 75th anniversary in 2001) and was a definitely a "KICK":
May 3 - Pontiac, MI
May 4 - Joliet, IL
May 6 - Springfield, MO
May 5 - Effingham. IL
May 7 - Tulsa, OK
May 8 - Amarillo, TX
May 9 - Albuquerque, NM
May 10 - Kingman, AZ
May 11,12 - San Bernadino, CA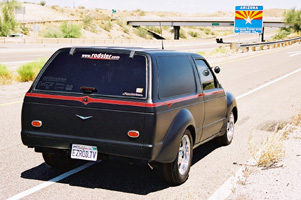 Only with a Rodster conversion kit could the build-up be so quick and easy . . . and the 2500 miles be so comfortable and hassle-free. Next time you look at a used S-10 Blazer, think Rodster Street Rod!
Click here to read the details in a recent issue of Kit Car Magazine.